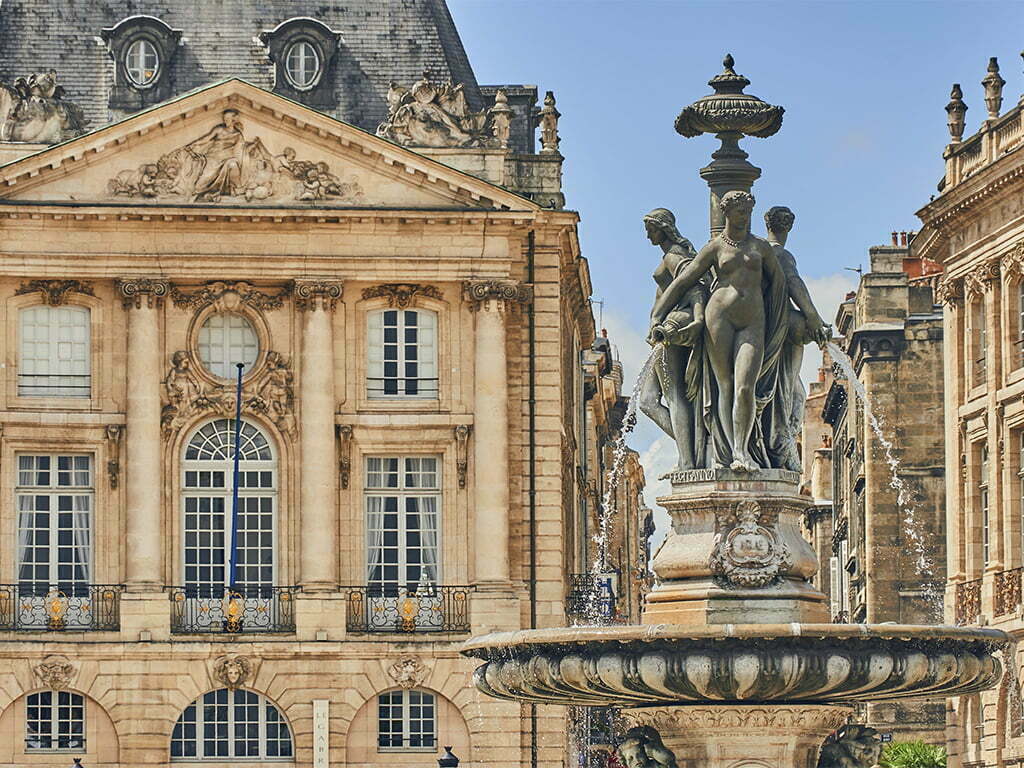 The best Free Walking Tours in Bordeaux – 2022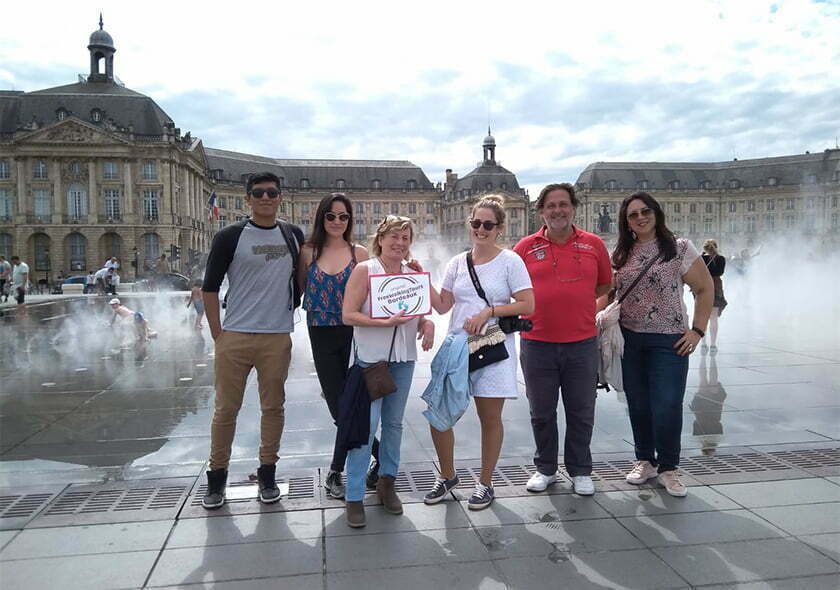 Bonjour & Welcome,
Here is a short Blog about the Best Free Walking Tour in Bordeaux and the free tour concept.
You might have travelled to different parts of the world, and you have realised that there is a group of people walking, enjoying, laughing and at the same time discovering the history of the city.
If you have seen this group, then I am sure it is a "Free Tour". These groups are guided by young local people, who are historic geeks or either they want to show their love for their city, that is the reason they chose to do it on TIPS BASED.
Free Walking Tours Bordeaux was the first company to create Free city tours of Bordeaux.  We started with Free tours in 2016 with one single goal: to show our beautiful city Bordeaux to you. 
When we started our first tours, it was just a few monuments & some anecdotes, but soon we realised that the clients wanted to know more and their curiosity gave us motivation.
Thanks to them, we expanded our tour and created a proper 2 hours tour with 12 iconic monuments of Bordeaux.
Our Free Walking Tour of Bordeaux is the best way to discover the historic city center of Bordeaux.
Why?
The tour is not too long or too short, it's perfect!
As well the tour is structured strategically to see the complete historical city center of Bordeaux, to learn about its gastronomy, discover its stories & to enjoy a walk in the streets of Bordeaux.
We were able to serve + 45,000 clients with more than + 5,000 excellent comments.
Our free walking tour of Bordeaux starts right in the heart of the city center: Quinconces Square. You will see a tall column with an angel statue on the top. This monument is called "Monument aux Girondins".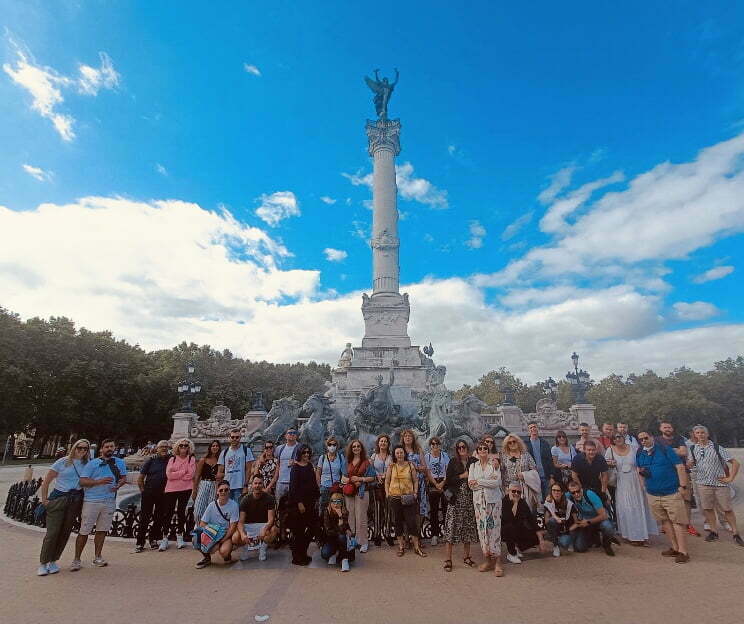 This is where we stand to welcome you, our clients & if you cannot find us, then look for a turquoise Eco-umbrella: you can identify our guides with a turquoise umbrella in their hand.
After a quick introduction of the tour, company and the guide, you will learn everything about the monument of Girondins. We will continue to discover some hidden gems, small & big secrets, the best gastronomy… in short: the Best of Bordeaux.
Our guides are storytellers. They will make you part of the tour, ask you questions, share anecdotes & give you their recommendations on where to drink & eat in Bordeaux.
You will discover the story of Bordeaux of the past, the present and future in a 2 hour walk., Be careful you might fall in love with the city!
You will get an orientation of the Bordeaux city center and after the tour, head to taste some fantastic wine and food that this region has to offer.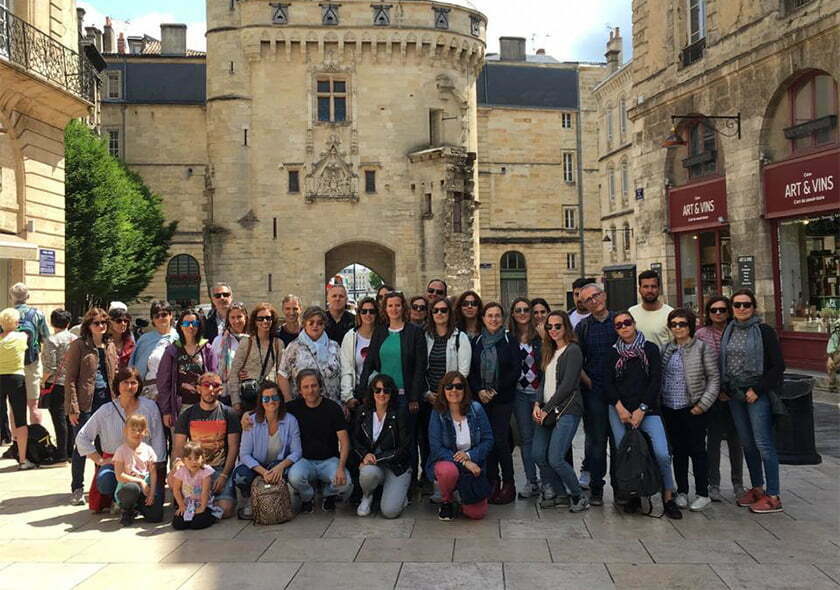 If you are going to stay for 2 or 3 days, then you can read our Blog here – Top places to visit in Bordeaux in 2022" or ask your guide what to do in & around Bordeaux.
And guess what?
At the end of the tour you can choose the price depending on your satisfaction. This tour is on TIPS BASED.
So hop in & join us everyday for this tour in English and Spanish.
We will be more than happy to show you our beautiful city Bordeaux & have a great time together!
Tours details
Name – Free Walking Tour Bordeaux
Time – 10 am everyday
Language – English
Duration – 2 hours
Meeting point – Monument aux Girondins
Ending point – Place de la Bourse
Price – Tip Based
We are aiming to be a 100% Eco-Friendly company, that is the reason we offer the most Eco-Friendly Tours in Bordeaux: we use Recycled Umbrellas, Reused Ipads & work with Organic wine bars & local family run Chateaux. We work with locals with the same ideology who provide us with Organic wines & food on all our tours.
I hope that our small journey to make Bordeaux a better place to live will be successful with your support & love.
P.S. If you want to know more about other Tours, visit our main page an check our Blogs & Tours.
Conclusion
In short, a free walking tour is the best way to see any city, learn about its history, get to know the best restaurants and bars, discover other monuments to see after the tour is over. With all this information & historical knowledge you can pay the guide according to your satisfaction. The average tip is between 10-15€.