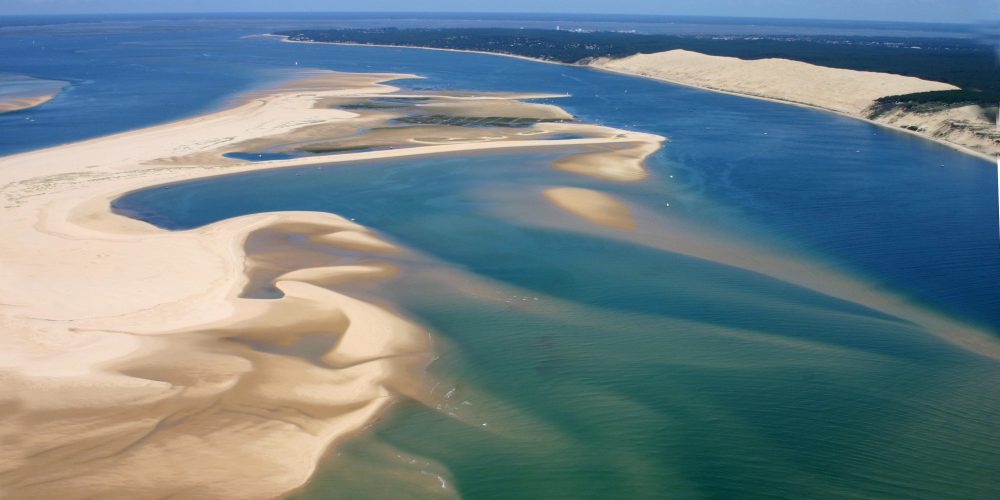 The incredible Arcachon Bay
Arcachon Bay is a coastal paradise in France, captivating all who visit. Its crystal clear waters and soft golden sand make it an ideal place to relax and enjoy the sun. But there is much more to it than that.
With its abundant marine life and beautiful dunes, there is a wealth of biodiversity in the area. In addition, this place is famous for its fresh oysters and seafood, which attract gourmets from all over the world who come to enjoy the gastronomy of Bordeaux.
In this article, we will explore all that the Arcachon Bay has to offer and discover why it is a must-see tourist destination.
Arcachon Bay at a glance
Arcachon Bay is a place located in the Aquitaine region, close to Bordeaux, making it a must-see if you come on a free walking tour to Bordeaux. It extends over 155 square kilometres and has a coastline of more than 80 kilometres. The deepest point is 21 metres deep.
It is protected by the island of Cap Ferret and is connected to the Atlantic Ocean by a narrow channel. The area is rich in biodiversity and is home to a wide variety of plant and animal species, including shellfish and migratory birds.
It is a major tourist destination in France, known for its water activities such as sailing and surfing.
How to get from Bordeaux to Arcachon Bay?
There are several options for travelling from Bordeaux to Arcachon Bay. One of the most popular ways is by car, as it is only 60 kilometres away. You can take the A63 road south and then take the exit onto the D1250 which leads directly to the site.
There are also public transport options, such as train or bus. The SNCF train company offers connections from Bordeaux train station to La Teste station, from where you can take a bus or taxi to get there.
Alternatively, you can take a direct bus from Bordeaux bus station, which goes directly to Arcachon Bay.
In this post we tell you 👉 how to get around Bordeaux 👈 in the best way.
Why should you visit the Arcachon Bay?
This is a must-see tourist destination for those looking for a quiet place to relax. Arcachon Bay is a unique seaside destination not to be missed. Here are the most important reasons to visit this privileged place:
Climb the highest dune in Europe.
The Pilat Dune is the highest dune in Europe. With a height of over 100 metres and a length of 3 kilometres, it offers breathtaking panoramic views of the bay, the ocean and the surrounding area.
It is a popular place for tourists looking to enjoy nature and the beauty of the landscape. Climbing to the top of the Dune de Pilat can be a physical challenge, but once at the top, the view is worth the effort. There are wooden stairs to make the climb easier and when you get there you can enjoy a picnic or relax and take in the breathtaking views.
Tasting a dozen oysters
Arcachon Bay is famous for its delicious fresh oyster production. This makes it one of France's top gastronomic destinations. Seafood lovers cannot miss a dozen fresh oysters.
Oysters can be sampled in the many restaurants and bars in the area. They can also be bought directly from the local producers in the oyster huts by the sea. There is a long tradition of oyster production here, and different varieties are available, each with its own unique flavour.
Bird watching
This is a unique place for bird watching. It has a great diversity of migratory species that use the bay as a stopover on their way to the south or north of Europe. This is a resting and feeding place for birds such as herons, ducks, gulls, ospreys and many more.
In addition, there are several bird protection and conservation areas, such as the Teich Ornithological Park, which offers a natural and protected environment for bird watching.
Visitors can enjoy bird watching in different areas: from the beach to the wetlands, and at different times of the year, each with its own variety.
Swimming in the waves or in the bay
Arcachon Bay is the perfect place to enjoy a dip in the sea, with its golden sandy beaches and crystal clear waters. It is a safe place to swim as the waves are gentler than in the ocean, making it ideal for swimming with children.
There are many beaches to choose from, from the more family-friendly and touristy to the wilder and more natural. It is also possible to enjoy water sports such as windsurfing, sailing and paddleboarding.
If you prefer a livelier atmosphere and stronger waves, the Atlantic Ocean beaches are just a few kilometres away.
Admire Belle Époque architecture
It is also known for its impressive Belle Époque architecture. This is an era of splendour and opulence that took place in Europe in the late 19th and early 20th centuries.
During this period, the bay became a popular tourist destination for French high society. This prompted the development of numerous villas and landmark buildings. Many of these buildings, such as the Grand Hotel and the Casino Mauresque, were designed by renowned architects and can still be admired today. This architecture is characterised by its detailed ornamentation, elegant lines and facades decorated with towers and balconies. In addition, this area has a more traditional architectural heritage, such as the fishermen's houses typical of the region.