Bordeaux's most typical gastronomic dishes
Bordeaux's most typical gastronomic dishes
France is known worldwide as a gastronomic destination par excellence. It is rich in options and with recipes that have remained intact over the years, passing from generation to generation. Of course, Bordeaux is no exception to the rule. Its rich cuisine makes it a wonderful alternative to enjoy this tradition.
Bordeaux's most typical dishes
If you are visiting the city, you should take the opportunity to try as much food as you can. However, there are some typical Bordeaux dishes that you cannot miss out on for any reason. Here are some examples:
Magret de Canard
Duck has always been part of French cuisine and is obviously included in the gastronomy of Bordeaux.
In English, magret de canard would be duck breast and is a relatively recent dish compared to other recipes. It was in the 1970s that magret was incorporated as if it were a beef tenderloin itself.
Until then, duck, like other poultry, was considered to be a long-cooked dish. After several critics praised the preparation, magret de canard entered the eye of the storm.
It is first cooked in a frying pan and finished in the oven. It is usually served with French onions and a kind of salad made from red fruits with apple and honey.
Entrecote bordelaise
Meat prepared in wine, what could be more delicious and traditional for the French? Entrecôte is a very popular steak in these parts, while bordelaise sauce is another delicacy. It is made from roux (a mixture of flour and fat), stir-fried vegetables, meat stock, crushed tomatoes, spices and red wine.
The meat is cooked on the griddle or grill, five minutes on each side and that's enough. It is served with a sauce and accompanied by a salad, preferably sweet and, of course, a glass of wine.
Pauillac lamb à la Persillade
First of all, you should know that Pauillac, a few kilometres from Bordeaux, is one of the areas with the best lamb in France. The meat is tender, hence the name of this dish.
In this case, the lamb chops are grilled for a few minutes to preserve their juices. They are served with chopped parsley to enhance the flavour. It is a relatively simple recipe, but one of the most popular in Bordeaux for its exquisite flavour.
Lampreda a la Bordeaux
Of course, fish is also an important part of French cuisine, although perhaps not as important. Nevertheless, it does have its representatives, as is the case with lamprey.
The shape of this fish is quite similar to that of the snake, which is very popular in the Gironde region. In the past, it was associated with the upper social classes and was considered a dish only for the rich.
Its preparation is quite simple. It is cooked in a kind of sauce or stew made from onions, leeks, garlic, shallots and red wine. It is served with oysters, garlic toast and, in some cases, caviar. Of course, with a glass of good Bordeaux red wine.
Bordeaux desserts and sweets
There is no doubt that French patisserie is one of the most renowned in the world. Of course, Bordeaux sweets are no exception to the rule. Here, too, there are true wonders. Among the best options that you can't miss for any reason, you will find:
Canelé
Dark in colour and intensely aromatic, canelés have a crunchy caramelised crust and an incredibly moist and soft interior. They are flavoured with vanilla and rum and served warm to appreciate their flavour and texture.
It is quite simple to prepare. Basically, you need wheat flour, butter, eggs, milk and sugar, as well as vanilla and rum.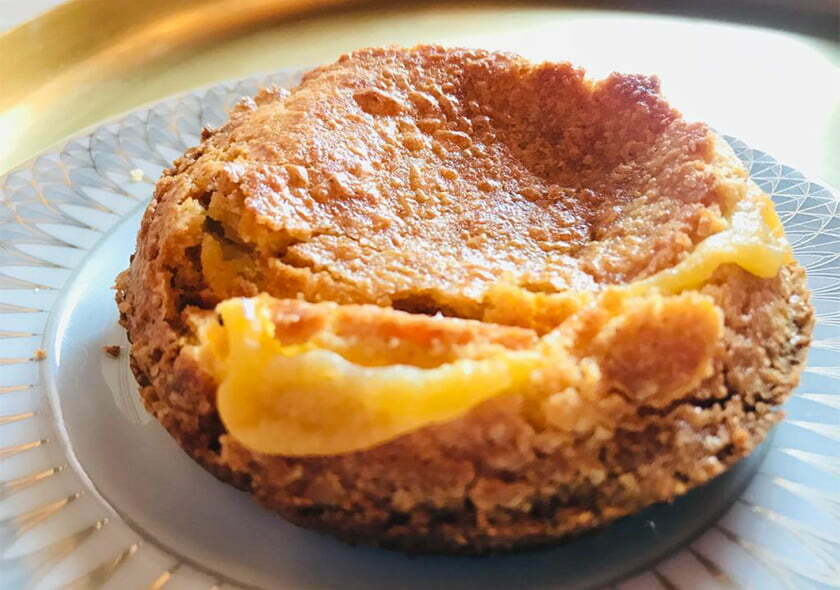 Crêpes
In Bordeaux and in France in general, crêpes are a reference of the cuisine. They are also the most popular crepes in the world. So much so that there are even savoury versions. As well as being delicious, they are also very cheap. You can eat them as street food or in a restaurant, it's up to you.
As for the fillings, the traditional one is chocolate, although cream fillings are also very good, on their own or with fruit.
Niniche
Although not as well known and popular internationally as crepes, this is also one of the best typical Bordeaux sweets. It is a caramel made with chocolate. It has the particularity of being quite soft, made with cocoa and butter.
Where to eat in Bordeaux?
The list is quite extensive, suitable for all budgets and tastes, even by speciality, whether you are a sweet or savoury eater. Some of the best places to eat in Bordeaux include:
Le Chapon Fin
Gourmet, specialising in traditional cuisine, with its own wine cellar and located in the middle of a historic building. These could be the best characteristics to describe this beautiful place.
It was opened in 1825. In addition, in this long history it already has three Michelin stars. It is located in the heart of the city centre, in what is known as the golden triangle of Bordeaux. It is between Place Tourny, the National Opera and Place Gambetta.
It is open from Tuesday to Saturday. It can seat up to 60 people in the dining room. If you prefer, there is a private room for 18 people.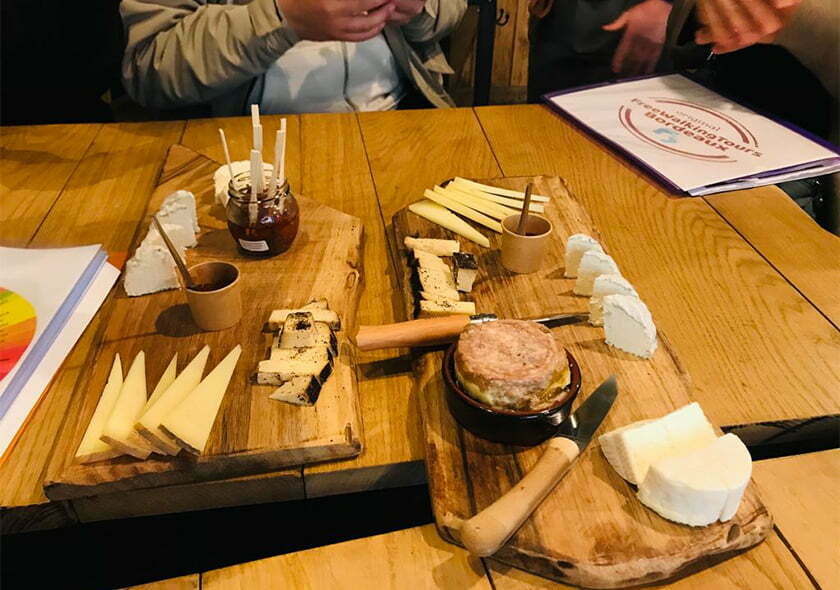 Le Quatrième Mur
Haute French cuisine in the beautiful surroundings of the Grand Théâtre de Bordeaux. You can choose between the ground floor, known as brasserie, or the first floor in table d'hôtes.
Depending on which option you choose, the price varies. The ground floor has a single fixed menu, one for lunch and others for dinner and weekends. The table d'hôtes is much more exclusive and seats up to 12 diners.
Brasserie Bordelaise
Traditional and delicious, specialising in local cuisine. It also has some national alternatives on its menu. It is in the heart of the historic centre, in the Rue Saint-Rémi, with large tables and great service.
Here you can enjoy traditional recipes, but there are also cold meat and charcuterie platters of the highest quality and, of course, a succulent dessert menu.
Coffee Napoléon 3
Local cuisine, but with a much more elegant touch, so much so that it is included in the list of European heritage cafés. It is located between the Grand Théâtre and the Place Des Quinconces.
Here you can enjoy simple but exquisite dishes, including salads, lamb and duck and, of course, omelettes to suit all tastes.
Brasserie L'Orléans
Not as elegant as the previous one, but still worth a visit. It is located in the Quartier des Grands-Hommes, a beautiful and impressive stone building, close to the Place Des Quinconces and the Grand Théâtre.
It is open until late. It's often the perfect place for theatre-goers who want to enjoy a nice dinner like the classic steak tartar on the way out.
Tours to discover authetic Bordelais gastronomy:
If you want to discover more of the city's gastronomic offer hand in hand with one local guide, we encourage you to take a look to our French Aperó style Food Tour around the city aswell as to our Blind wine and cheese tasting tour and Wine and cheese tasting Tour.