Free tour Modern to Medieval Bordeaux
OVERVIEW: Free tour of Medieval and Modern Bordeaux
Be ready to enjoy two hours of discovering Medieval Bordeaux and Modern Bordeaux. With our free walking tour you will get to appreciate in detail the perfect combination of both worlds that the city entails. 
This free tour goes beyond the city center classic tour. You will be amazed to know how Bordeaux has evolved over 1000 years and still continues to amaze us.
Listen to the stories of Medieval dark times, the foundation of religions, the merciless punishment, the medieval lifestyle and some of the most strange treatment of the uneducated doctors at the time. Discover the Modernisation of Bordeaux high raised buildings, the modern museum and the botanical garden of Bordeaux among many more interesting places.
Discover the medieval and modern side of Bordeaux with us
We start the tour in the old Saint Michel Neighbourhood : learn the secret of the basilica Saint Michel, the foundation of religion, medieval lifestyle and uneducated doctor treatments. We will then cross from the right to the left bank of the Garonne river and discover the newly built Bastide
Neighbourhood: learn about the strategy of Modernisation in Bordeaux, the famous Darwin EcoSystem, its modern museums and buildings, the new botanical garden and many more interesting places.
All of it, only on this Medieval and Modern Bordeaux Tour 
Join our free tour and enjoy Bordeaux in an unusual way!
VIDEO REVIEW OF OUR CLIENTS
Details you need to know about this Free Tour
Este tour se lleva a cabo en INGLÉS, para español, haga clic aquí.
There is a  1€ booking fee to guarantee your spot on the tour, this helps us to provide the best experience possible. It does not go to the tour guide.
If for some act of god, like a hurricane, the tour doesn't run, you will be reimbursed. Or can join another tour of the same cost
This is a Free Tour: You decide the donation you will give to the guide for this experience. An average tip for this tour is 12€ per person.
Our Free Tour  is designed for individuals and small groups. We cannot accept groups of more than 6 people (also not with separate reservations). This is a company policy in order to provide an excellent experience for all our clients. If you are a bigger group, please contact us or book directly our  Private: Best of Bordeaux Walking Tour.
This is the Most Eco friendly tour in Bordeaux. We use Recycle Umbrellas, Recycle Ipads & work with Organic wine bars & Châteaux.
If there are less than 4 reservations we will have to cancel the tour – sorry!
If you cannot book a specific date or time (probably because there are no more spots available), please write us a message or take our 

Private: Best of Bordeaux Walking Tour

.
Ready for an unforgetable FREE Tour of Medieval and Modern Bordeaux?
Main Monuments we'll visit
With our Medieval and Modern Bordeaux Free tour you will get to...




BOOK NOW THIS MEDIEVAL AND MODERN BORDEAUX FREE TOUR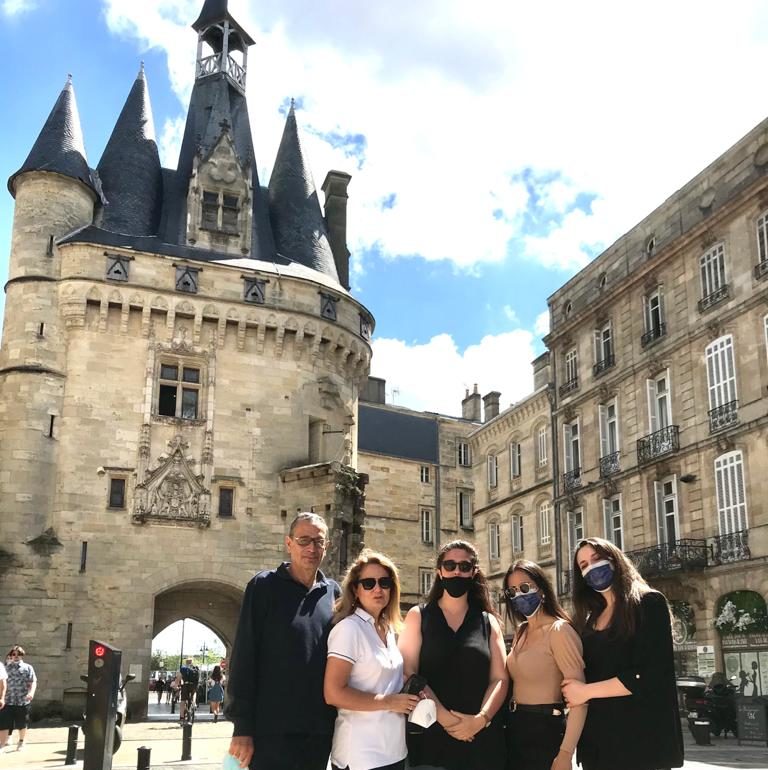 We did a private tour with Clemence around Bordeaux and it was incredible, everything she told us was very interesting and she told us a lot of places to visit, things to do and restaurants to eat. The private tour is highly recommended since going with fewer people is greatly appreciated and especially when it comes to listening to the guide and moving all together. A 10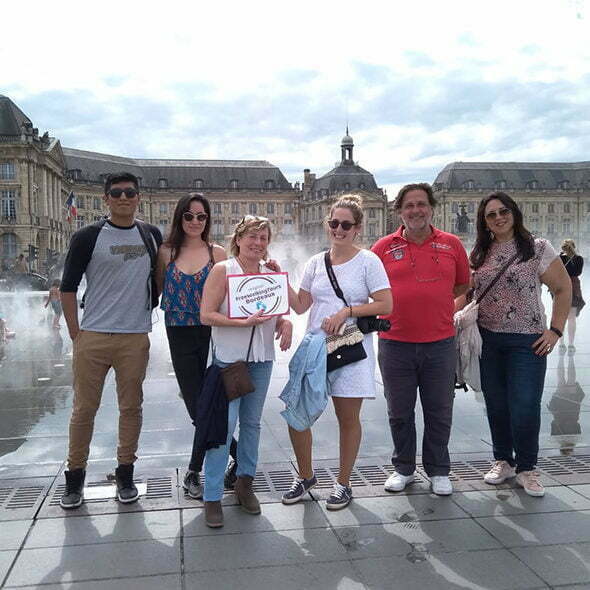 Interesting and really fun way to learn more about Bordeaux and the region! One of the best walking tours i've done! Ani is super knowledgeable, fun and a great story teller! 🙂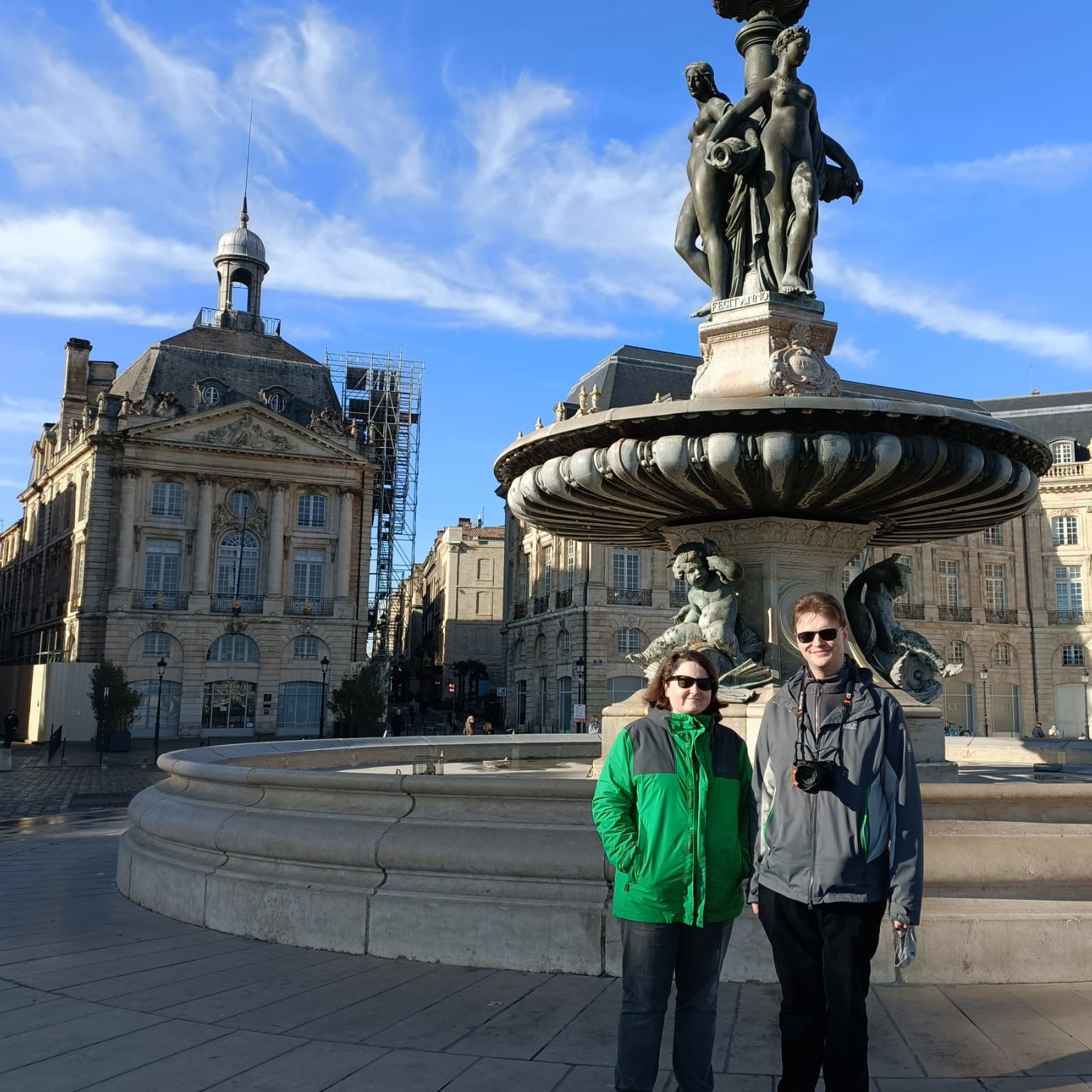 Great way to see Bordeaux. Had a really great time! Perfect way to see the sights and learn Bordeaux's history. Ani was an amazing guide and gave great recommendations for food/drinks afterwards. Would absolutely recommend to anyone visiting Bordeaux
Questions?
Check our FAQs or drop us a message and we will get back to you as soon as possible, promised!