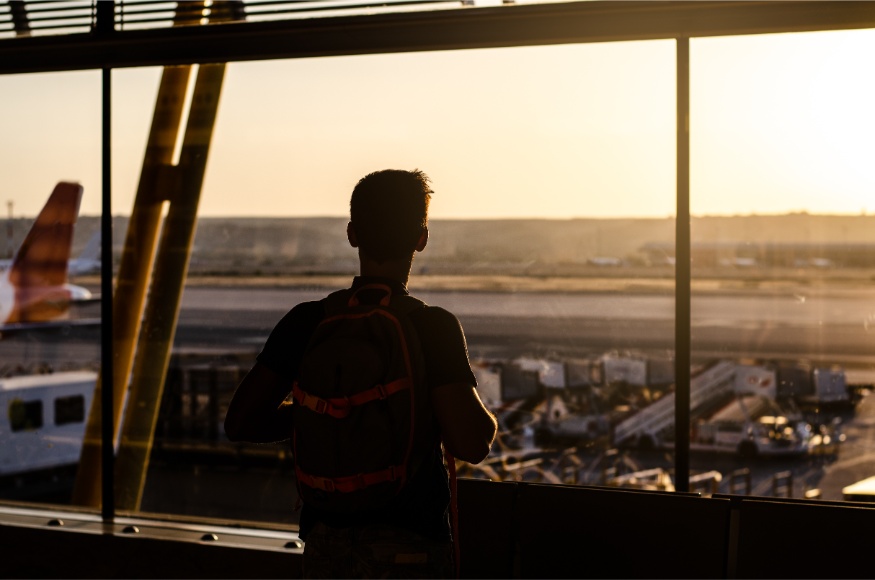 How to get from Bordeaux airport to the city
Welcome to the capital of New Aquitaine! You're just one step away from discovering one of the most beautiful cities in France. If you've just landed, you'll need to know how to get from Bordeaux airport to the city, right? Don't worry, here's how to get there without any problems. There are several options for getting to your destination safely, comfortably and stress-free.
In the following guide we will explain the best means of transport to get you to your destination to start your free walking tour of Bordeaux in the best possible time or at a lower cost. We will inform you about fares, travel times, precautions and other considerations.
Where is Bordeaux airport?
Bordeaux airport is about 20 km southwest of the city. It is located between the towns of Mérignac and Pessac, which – like the Pey Berland Tower – have their importance in the history of Bordeaux. A small village, Lignan-de-Bordeaux, is about 4 km away.
Different ways to get from Bordeaux airport to the city
Once your flight has landed, you will need one last means of transport to discover all the wonders that the wine capital of the world has to offer. In the following lines, we will describe in detail the different ways to get to the city from Bordeaux-Mérignac airport.
By bus
If you decide to go by bus from Bordeaux airport to the city, you can:
Take line 1 (Liane 1) which will take you to the city centre. The route passes through the districts of Caudéran, Saint-Augustin, Saint-Michel and La Bastide. The journey takes approximately 45 minutes.
Opt for line C1 (Liane C1) which also takes you to the centre, but passes through the Lormont district. The journey also takes approximately 45 minutes.
Line C (Liane C) takes you to the city centre via the Lormont, Saint-Augustin, Saint-Michel and La Bastide districts. The journey takes approximately 60 minutes.
The bus schedule depends on the line you choose. Line 1 departs every 20 minutes between 6:00 am and 11:30 pm. Line C runs every 30 minutes between 6:00 am and 10:00 pm. Line C1 runs every 30 minutes between 6:00 am and 10:00 pm.
Bus tickets cost €1,50. They can be bought at the information kiosks at the airport and at the information kiosks in the city.
By Taxi
Taxis can be an excellent option for getting from Bordeaux airport to the city. Travel time is approximately 30 to 40 minutes depending on traffic. The standard fare is between 30 and 40 euros. There is the option of sharing a taxi with other passengers to reduce costs.
There are also private taxi services that offer fixed fares. These fares are generally higher than regular taxis. However, they offer more amenities (baby seats, Wi-Fi connection, etc.). Prices vary depending on the number of passengers.
First, you should go to the taxi rank in front of the airport. It is advisable to check the fare before getting in to avoid unpleasant surprises. If you want a private taxi service, you must make a reservation in advance.
Private transfer
The private transfer journey should take approximately 30 minutes, even if there is traffic.
The fare to be paid will depend on the size of the vehicle, as well as the number of passengers. Prices generally range from 50 to 100 euros, depending on the length of the journey. Private cars are usually modern and comfortable, with air conditioning and other amenities to make the journey more pleasant.
It is possible to hire a private transfer service directly at the airport, where there are several companies offering this type of service. Of course, you can book in advance through a transport company or even through a travel booking website. The latter is often a good option if you want to save time and money.
Renting a car
There are several car rental services available at the airport. Prices vary depending on the rental company, the type of car rented and the length of rental. The average price per day for a small car is approximately €25.
All car rental companies require a security deposit in cash or by credit card. The companies also require a copy of the driver's identity card and an address receipt. Some companies also require a credit or debit card to make the rental payment.
Before renting a car, it is important to check that all the company's requirements are met. It is also important to check the condition of the vehicle before renting it. If there is any damage, the rental company should be notified in order to avoid later problems.
Finally, it is important to bear in mind that the rental insurance does not cover damage caused by improper use of the car.
There are other airports near Bordeaux
Bordeaux airport is one of the main airports in France and Europe. However, there are other airports close to Bordeaux that also offer domestic and international flights.
One of the most important is Bergerac Dordogne. It is an hour and a half drive away. Although it is small, it offers regular flights to national and international destinations.
La Rochelle is a two-hour drive from Bordeaux. It is located in Charente-Maritime and offers regular flights to domestic and international destinations, and Toulouse is about two and a half hours away. It is one of the largest airports in France.