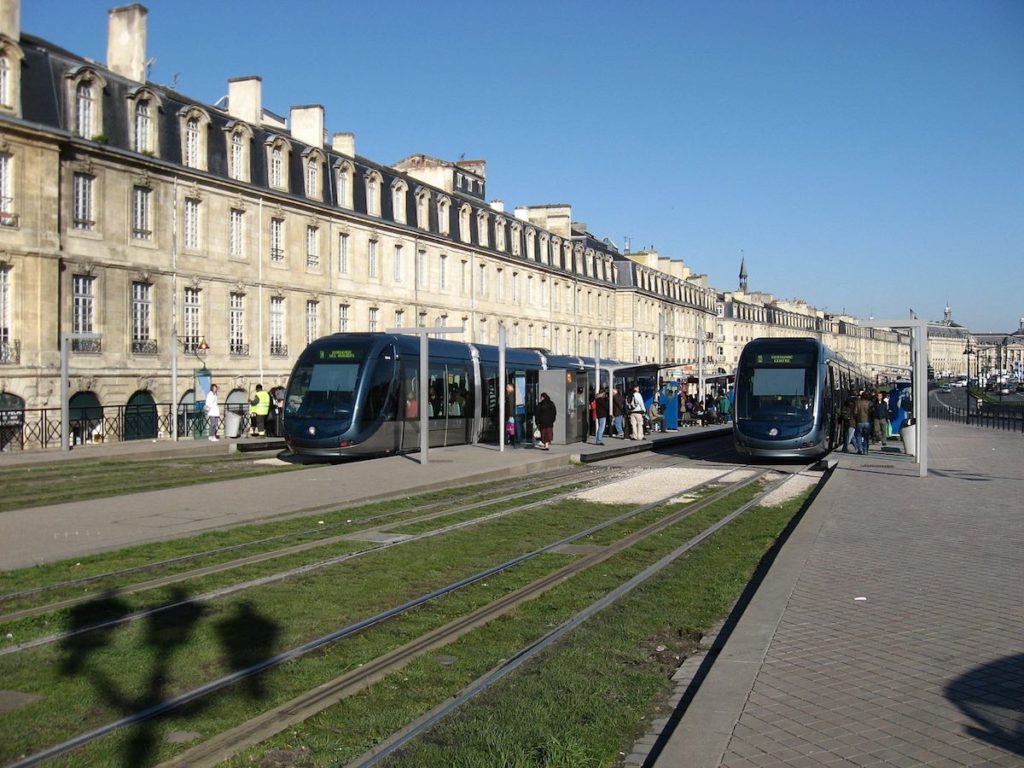 What to know about the Bordeaux Tramway?
Can you imagine walking the streets of a beautiful French city aboard a modern and efficient means of transport? The Bordeaux tramway has made that possible and has turned the city into the perfect combination of historical heritage and transport innovation.
The Bordeaux tramway is a work of engineering that has transformed the city's urban mobility and has been recognised for its design and efficiency. In this guide, we'll take you on a tour of the different routes it takes to get you to our free walking tour of Bordeaux. Are you ready to get on board? Let's get started!
Tram lines in Bordeaux
With an efficient and comfortable infrastructure, tram lines in Bordeaux are one of the preferred options for tourists and locals alike when deciding how to get around Bordeaux. Here is a description of each of the tramway routes in Bordeaux:
Tram A
Tram A runs through several cities in France. It connects Mérignac, Bordeaux, Cénon, Floriac Dravemont and La Gardette Bassens Carbonblanc. It is part of Bordeaux's public transport system, known as "Tram et Bus de la CUB" and is an efficient way of getting around the region.
It is one of four operating in the Bordeaux network and is the longest of all, covering a total distance of 22.3 km. It starts its route in Mérignac and from there heads towards the city centre. It passes some of the city's main tourist attractions, such as Place de la Victoire and Place des Quinconces.
After crossing the Garonne River, it reaches Cénon, a town on the left bank of the river. From there, it continues its route northwards, passing through Floirac Dravemont. Finally, it reaches La Gardette Bassens Carbonblanc, on the right bank of the river.
It has a total of 38 stops along its route, making it very accessible for residents and visitors to the region. It also has connections to other tram and bus lines at several stations.
Tram B
Tramway B is a line connecting the cities of Bordeaux, Talence and Pessac. It starts its route in the centre of Bordeaux, at Place des Quinconces. It then passes some of the city's main tourist attractions, such as the Pont de Pierre and Place de la Victoire.
It continues its route through Talence, a town south of Bordeaux, and finally arrives in Pessac. The total route is about 15.7 km and has a total of 28 stops.
It is an efficient means of transport with modern amenities to ensure a pleasant travel experience. It is air-conditioned, handicapped accessible and has real-time information screens that provide details of the next destination.
It is also an environmentally friendly and sustainable alternative, as it runs on electricity and does not emit greenhouse gases. It is also connected to other tram and bus lines.
Tram C
It is a line connecting several towns in the Bordeaux region. Tram C starts its route in Villenave d'Ornon, a town located south of Bordeaux. From there, it heads north and passes through Bègles, another nearby town, before reaching the city centre. Here it connects with other tram and bus lines.
After crossing the River Garonne, it continues its route northwards. It passes through Bruges before reaching its final destination in Blanquefort.
The total route is about 23.6 km and has 37 stops. It is equipped with modern conveniences and is connected to other lines to facilitate mobility within the region.
Tramway D
This line connects Bordeaux, Le Bouscat and Eysines. Tram D departs from the centre of Bordeaux at Place des Quinconces and passes some of the main monuments in Bordeaux, such as the Jardin Public and the Cathedral. The total route is about 9.5km and has 14 stops.
Prices and timetables for trams in Bordeaux
Tram fares and timetables in Bordeaux vary according to the line and time of day. In general, they operate from 5:00 am to 12:30 am. Timetables may change on public holidays and weekends.
For short distance journeys (less than 3 stops), it is recommended to buy a single ticket. It is worth 1.80 euros if purchased from a vending machine or 2 euros if purchased from the driver.
For longer distance journeys, it is recommended to buy a multi-journey ticket or a day pass. The price for a pack of 10 tickets is 15.60 euros if purchased from a vending machine or 17.20 euros if purchased from the driver.
You can also buy a day pass, which offers unlimited tram and bus travel throughout the day. The price of a day pass is 5.50 or 6.10 euros. Tickets and passes for transport in Bordeaux must be validated at the machines located at the stops before boarding the transport.
Benefits of travelling around the city by tramway
Getting around the city by tram offers several benefits compared to other means of transport.
They are a fast and convenient way to get around the city, as they follow fixed routes and have regular stops. In addition, many trams are integrated with other forms of public transport, making it easy to connect to other areas of the city.
They can help reduce the number of vehicles on the roads and reduce traffic congestion in urban areas. This in turn can improve air quality and reduce travel time for passengers.
They are an accessible form of transport for people with physical disabilities. Many stations have ramps for wheelchairs and other assistive devices.
They are generally more comfortable than other forms of transport. They have spacious seating, air conditioning and, in some cases, free wifi.
They are also a more environmentally friendly form of transport than fossil fuel vehicles, as they use electricity to operate. This can help reduce a city's carbon footprint and make it greener.