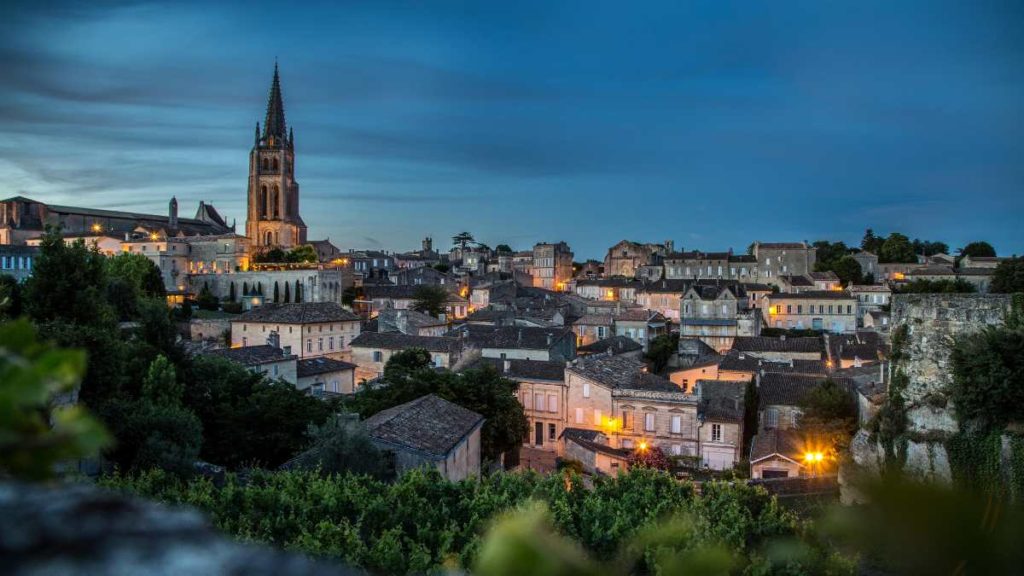 There is no doubt that Bordeaux is a beautiful and incredible destination. Regardless of the time of year or type of travel there are always wonderful places to see, both in and around the city.

The Day Trips you can do fom Bordeaux are so varied and charming that we are sure you will fall in love at first sight. Its landscapes are full of a unique natural beauty, without forgetting its exquisite gastronomy and, of course, its wine. Not in vain we are in one of the most important wine regions in the world.

Stay with us and you will discover several points of interest near Bordeaux.
What to see near Bordeaux?
First of all, we must make it clear that there are many places to see near Bordeaux. To mention them all would take too much time. Therefore, we have made a selection of the best, charming, magical and unforgettable points of interest.
Bordeaux Castles
To begin with, we must make the term clear. In case you didn't know, chateaux are the main houses located in the vineyards. In English, it translates as castle, so you already have an idea what it is all about.
As we have already said, we are in one of the main wine producing areas of the world. In fact, many agree that the best product comes from these lands. For this reason, there are many chateaux that we will find in trips near Bordeaux.
Here is a small selection:
Cos d'Estournel, Médoc
Medoc is located at a distance of 71 km from Bordeaux and the route could not be more beautiful. The Grand Cru Classé Saint-Estèphe winery is located in the middle of a huge and very striking property. It highlights its beautiful chateaux built in the 19th century under a completely oriental influence.
This was the first producer in the area to export his wines to India in 1838. It was from these trips that his love for oriental architecture was born.
Château Pédesclaux, Médoc
We are still in Médoc, but now it is time to visit Pédesclaux, with more than 200 years of family administration. It was a monastery built in the 18th century. It has undergone some renovations to make it much more environmentally friendly, but it still keeps intact that magic of its golden age.
In fact, in 2018 it was awarded Best of 2018 in the Architecture and Landscape category. The vat room alone is over 2,000 m2, so you'll already get an idea of the beauty you'll find.
Château de Malle, Graves et Sauternes
It is also very close to Bordeaux, 60 km away. Graves et Sauternes is a real natural jewel and the Château de Malle is not far behind, both for its architectural importance and its beauty.
It was built in the 17th century by the architect Jacques de Malle and is listed as a Historical Monument.
It is surrounded by more than five hectares of vineyards, where you can also see some statues and even an outdoor theater. The interior of the castle will make you feel like you have traveled back in time, with a decoration as neat as exquisite.
Château La Louvière, Graves et Sauternes
Another converted religious building. In this case, it belonged to the Carthusian Order. It was built in the 17th century. At the time of the French Revolution it passed into the hands of the famous local merchant Jean-Baptiste Mareilhac. He asked the architect François Lhôte to restructure the building in the neoclassical style.
Château de Pressac, Saint-Emilion-Pomerol-Fronsac
Renovated in the 19th century, this marvelous building stands out among the surrounding vineyards. It was here that the English decided to surrender at the Battle of Castillon, so it is also of great historical importance.
Saint-Émilion
Charming, historic and fascinating. These could be three good adjectives to describe what Saint-Émilion represents. It is a small medieval village with more than 2,000 years of existence, located in the heart of the Bordeaux vineyards.
It is 40 minutes from the city center, so it is quite convenient to come and go in a day. Even from the capital of New Aquitaine it is possible to book a Free Tour Saint Emilion.
This area, apart from being a wine producer par excellence, is also famous for its limestone. In fact, it has been used for the construction of many of the historic buildings in the surrounding area for several centuries. In fact, there are more than 200 km of subway galleries that were used to provide the stone.
Its rich geological diversity has allowed it to produce a wide variety of wines. Without going any further, it offers the best conditions for the nurturing and ripening of Merlot. In fact, such is the importance of wine, that the Confraternity of Saint-Emilion, La Jurade, was founded in 1199.
Of course, if you are a wine lover, here you will have plenty of options to enjoy it and know all the variety that is produced. In addition, you can enjoy the visit through a Private Tour through Saint Emilion.
Dune du Pilat
Do you like nature? Then get ready because you are in front of the highest dune in Europe. It is more than 110 meters high, about 2.9 kilometers long and 616 meters wide. In addition, it is surrounded by the most incredible and beautiful environment.
It has been formed over time, considered a true natural jewel for the country. It is located less than 72 km southeast of Bordeaux.
It is at the entrance of the Arcachon Bay and is the only one still moving within the system of regional coastal dunes. According to experts, it moves from 1 to 5 m per year in an easterly direction. It is composed of about 60 million cubic meters of sand.
Périgueux
It is a little further away, 137 km away to be precise, but one of the main attractions to see around Bordeaux. With more than 2,000 years of history, it enjoys a diverse and rich past. Here you can still see some traces of its Gallo-Roman past, without leaving aside the medieval and Renaissance heritage.
It was declared a World Heritage Site by UNESCO within the routes of the Camino de Santiago de Compostela.
Its narrow streets are full of cafes and stores. You can visit the Gallo-Roman circuit, which highlights the Roman domus dating from the first century or an ancient Roman house. This is visible thanks to a modern system of walkways to preserve the original floor, as well as other objects typical of daily life at that time.
You will also find the remains of the first Gallo-Roman wall that surrounded the city. Later, it served as a base for other constructions during the medieval period.
Other places you can visit are:
The remains of the Barrière castle. It was built in the 12th century and partially destroyed during the wars of the 16th century.
The church of La Cité, the first cathedral of the city. Over time it has survived numerous attacks.
Regarding the medieval remains, the first stop should be the Mataguerre Tower. It is considered the last bastion of the great medieval wall. In its time, it had 12 gates and 28 towers.
Subterranean Church of Aubeterre-sur-dronne
Have you ever thought of a subterranean church? Well, this is your chance to enjoy this ancient and beautiful architectural marvel. Aubeterre-sur-Dronne is located about 100 km away from Bordeaux.
This church, which is about 1,400 years old, is carved out of limestone rock in a cliff overlooking the Dronne River.
The original crypt of the building was built in the 7th century AD. Here were found more than 1960 tombs with 80 sarcophagi that were carved into the rock.
In the 12th century a nave was added. It is 20 meters high and is surrounded by a gallery on three of its four sides. It is located at 15 meters, through which it is possible to access by a staircase, also carved in stone.
In total, the church is 27 meters long and 16 meters wide. The reliquary made of hexagonal stone, which is 6 meters high, is very striking. As a curious fact, many burials took place here, until, for reasons of public health, they were banned in 1865.
Cliffs of Meschers-sur-gironde
This is the most secluded of the excursions from Bordeaux, but it is well worth seeing and enjoying. Meschers sur Gironde is exactly 127 km away from the city.
In the limestone cliffs you can visit the wonderful Matata Caves, natural caves near the mouth of the Gironde estuary. They were first excavated by the Saracens in the 8th century. They were used as silos and have been occupied by man ever since. They have even been used as shelters during wars.
They communicate with each other by corridors and stairs in the open air and inside. Today, here you can visit the ecological museum and if you prefer, stay in the hotel.
Day Trips near Bordeaux through a free Tour
There is no doubt that there are many places to see near Bordeaux, so choosing the best option can be a bit complicated. Taking into account the variety and natural richness of the destinations, we could say that there is a plan for all tastes and personalities.
As Bordeaux is such a popular tourist destination, it also gives you the possibility to have some advantages. You will be able to take a free tour, both for the city itself, as well as the surroundings. In any case, they are comfortable, adapted to your tastes and, above all, budget-friendly.
USE CODE: WELCOME FOR A 10% DISCOUNT ON YOUR BOOKING!