Top Free Things to do in Bordeaux
If you thought you didn't have the budget for a trip to Bordeaux, think again! There is an impressive array of free things to do in Bordeaux, whether your interests lie in the city's history, culture, or culinary scene. So give your wallet a rest with this mix of completely free one off and year-round events in France's most exciting city after Paris!
Explore the Historic Center on Foot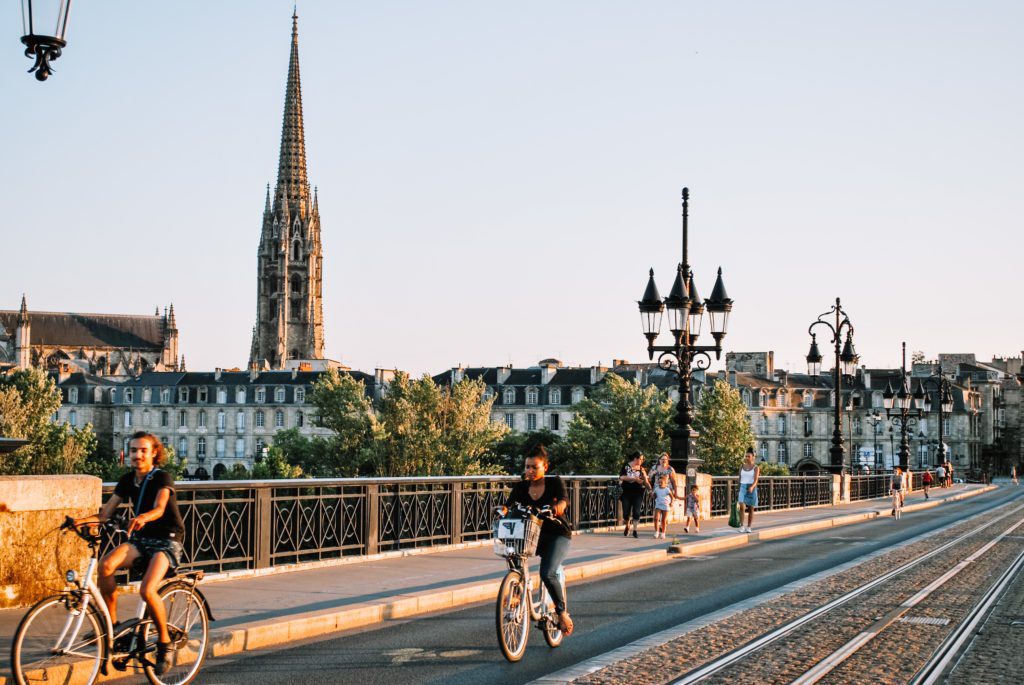 The historic heart of Bordeaux is known as Vieux Bordeaux or the Port de la Lune, a crescent-shaped area on the west bank of the River Garonne which forms the largest urban UNESCO World Heritage Site anywhere in the world. Focused on the ancient Saint-Pierre neighborhood, it's small enough to stroll around without needing experience as a long-distance hiker. However, you'll still find lots to entertain you as you wander its lanes, alleyways, and avenues. From the Girondins monument to the Église Saint-Pierre, there's plenty to have you reaching for your smartphone. The only real worry is missing some of the sights, in which case opting for a walking tour in Bordeaux is probably the answer you're looking for!
Chat With Stallholders at the Capucins Market
One of the fascinating facts about Bordeaux is that this city in southwest France is home to no less than 33 restaurants with a Michelin star – the highest award in the culinary world. Where do these restaurants obtain their ingredients? Many turn to the stalls of the Capucins food market, containing traders who have been serving the restaurants and people of Bordeaux for multiple generations. There's no charge to enter, making this another great pick for those seeking out free things to do in Bordeaux. The only danger is falling for the amazing sights, sounds and smells of the meats, pastries, breads, and cheeses on sale here. If your stomach does begin to rumble, there are several places to sit down for a meal at very affordable prices (glass of wine for two euros anyone?).
Celebrate Summer with a Free Concert
The long summer nights in Bordeaux are frankly irresistible. Not only do temperatures remain ideal for much of the evening, but the air is also awash with the sound of multiple genres of music. Check the local press and you'll see a wealth of concerts and other major events taking place during the summer months. Many are free to attend, using Bordeaux's myriad of parks and green spaces. Also look out for events linked to Bastille Day (or Fête nationale française) on July 14. They include a mass picnic in parc Simone Signoret, a military parade, and a firework display which kicks off around 10 pm. Come the end of the year, allées de Tourny in Vieux Bordeaux hosts a daily Christmas market too.
Rub Shoulders with the Bordelais at Darwin
Free things to do in Bordeaux don't just lie within the city's historic center. Switch to the east bank of the River Garonne and you'll discover one of Bordeaux's coolest districts. As urban and contemporary as Vieux Bordeaux is historic, the 'Darwin Eco-système' has turned an unloved series of military complexes into a hipster hangout par excellence. For a sense of what the modern culture of Bordeaux is all about, there's nowhere better to head. Reminiscent of Berlin's urban cool for some, Darwin is a fascinating blend of skaters practicing their alley oops, trendy couples enjoying brunch, and the latest artworks. What's more, it's one of Bordeaux's free things to do!
Visit Bordeaux's Museums for Free
Plan your trip to Bordeaux to coincide with the first Sunday of the month (except July and August) and you're in for a treat culture vultures won't be able to resist! Seven of the city's top museums open their doors for free on these dates. And not just for their permanent collections, but also for any temporary shows currently taking place. So whether it's a morning among the artworks of the musée des Beaux-Arts, the historic collections of the musée d'Aquitaine, or even the planting schemes of the jardin botanique, you're sure to find something that suits your tastes!
Check Out the Street Art
However, if you're not lucky enough to be heading to Bordeaux on the first Sunday of the month between September and June, don't panic! There are still plenty of free things to do in Bordeaux for art lovers. By our count, there are close to 200 works of street art for example. And while we don't expect you to check out every single one of them, connecting up some of the most exciting can be a great way of discovering the city. The streets (rue de la Porte Basse and rue des Ayres) just behind the cathedral are a bit of a hotspot. A little further out, the Pessac suburb has perhaps the most impressive example of Bordeaux's street art scene. Lying close to the train station, it depicts a 1970s living room interior with incredible likeness. Meanwhile, the strangest has to be the Mark 2 Jaguar apparently plunging to the ground from the car park on Cours Victor Hugo.
Head to the Beach
Although Bordeaux lies at least an hour from France's Atlantic beaches, you can be sitting on the sand in half the time by heading to one of the lakes dotted about the city. The closest is Bordeaux Lac, which is easily accessible using the city's tram network (line C to Les Aubiers). Open in July and August, the beach has an area of sand for those looking for an authentic sunbathing experience alongside a large grassy area which is great for picnics. There's also a supervised swimming area and the chance to try your hand at watersports including sailing.
The Best Free Things to do in Bordeaux
When it comes to free things to do in Bordeaux, visitors aren't short of choice. From free walking tours in Bordeaux to trips to the beach, the only limit is your imagination. If you're heading to the city soon, be sure to bookmark our pick of the top free things to do in Bordeaux so you don't miss out!