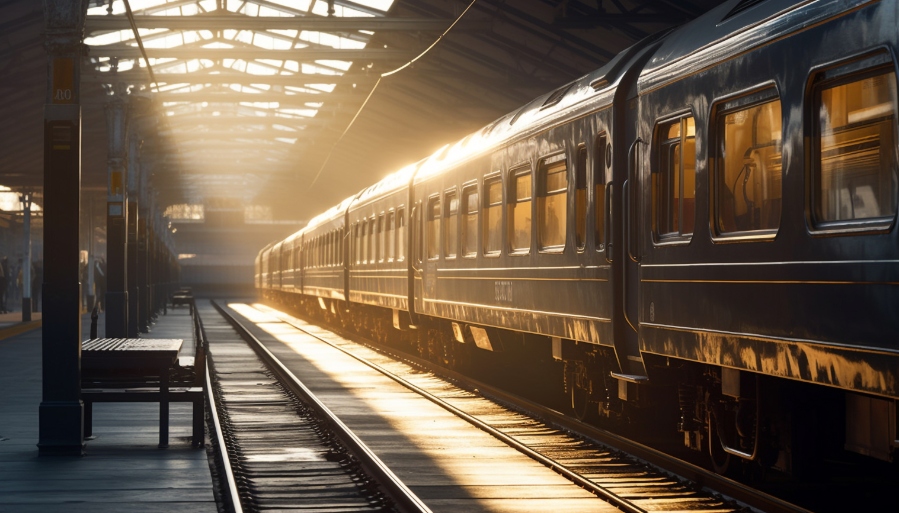 Train Madrid-Bordeaux: prices, stops, timetable and more 
The train journey from Madrid to Bordeaux offers several options for travelers. With an average duration of 12 hours and 43 minutes, trains cover a distance of 554 km. It is recommended that if you are going on a free walking tour of Bordeaux, plan ahead and book tickets from £36.46 for cheap fares. There are no direct services, so at least 2 changes are required during the trip. Departure times vary, from the first train at 07:05 to the last at 21:10. Traveling by train is beneficial for the environment, reducing gas emissions.
General information about the Madrid-Bordeaux route  
If you are planning to travel by train from Madrid to Bordeaux, it is important to take into account some details about this route. Here you will find relevant information about the distance and duration of the trip, the train options available and some recommendations to plan your trip effectively.
Distance and travel time by train  
The approximate distance between Madrid and Bordeaux is 554 km. The train journey from Madrid to San Juan Bordeaux train station can take around 12 hours and 43 minutes, although there are faster options that reduce the travel time to 10 hours and 28 minutes. The exact duration may vary depending on the type of train and any necessary changes during the journey.
Train options available  
There are several train options to travel from Madrid to Bordeaux. Throughout the day, there are 5 trains covering this route. However, please note that there are no direct services, so a minimum of 2 changes will be required during the journey. Some of the route options and connections include Madrid – Barcelona – Bordeaux and Madrid – San Sebastian – Bordeaux. Be sure to check the schedules and options available to suit your travel needs.
Recommendations for planning your trip  
Planning ahead is essential to enjoy a smooth trip from Madrid to Bordeaux by train. Here are some tips to help you plan your trip:
Book your tickets in advance to get cheap fares. Ticket prices start at £36.46, but may vary depending on season and availability.
Please note train departure times, as they vary throughout the day. The first train departs at 07:05 and the last train at 21:10.
Consider the route and connection options available. While there are no direct services, you can choose between different options to get to Bordeaux from Madrid.
It is always advisable to travel during off-peak periods to find cheaper train tickets. Also, if you travel at the best time to visit Bordeaux and buy in advance, you'll have a better chance of securing your place on the train.
With all this information in mind, you'll be prepared to plan your train trip from Madrid to Bordeaux efficiently and make the most of the experience.
Madrid-Bordeaux train fares and prices  
Affordable fares and available discounts  
For travel by train from Madrid to Bordeaux, there are budget fares available to save you money on your journey. These fares will start from £36.46, offering an affordable option for travelers on a budget. In addition, special discounts are available for certain groups, such as students, seniors or families, providing the opportunity to travel at reduced prices.
Book tickets in advance  
An important tip for getting the best prices is to book train tickets in advance. By booking in advance, seats are guaranteed to be available at lower prices. Also, you avoid ticket sell-out situations, especially in high demand seasons. Remember, if you are planning your trip and deciding what to see in Bordeaux in 4 days, be sure to book as far in advance as possible.
Tips for finding cheap train tickets  
Travel during off-peak periods  
One way to get cheaper train tickets for the Madrid-Bordeaux route is to choose to travel during off-peak periods. During vacation seasons and weekends, prices are usually higher due to the high demand of travelers. Therefore, it is advisable to plan your trip for weekdays or outside tourist seasons to take advantage of more affordable fares.
Buy in advance and take advantage of deals  
To get the best prices on Madrid-Bordeaux train tickets, it is recommended to buy in advance. Train companies often offer promotional fares for those who book several months in advance. In addition, it is important to keep an eye out for special offers and discounts that may come up, either through the train companies' websites or through email newsletters. Taking advantage of these offers can mean significant savings on the cost of travel.
Use booking and price comparison platforms  
There are several online platforms that make it easy to search, compare and book train tickets for the Madrid-Bordeaux route. These platforms allow you to filter results according to specific preferences, such as schedules, prices and train classes. In addition, they offer the possibility to compare prices of different railway companies, which helps to find the most economical option. When using these tools, it is important to verify the reliability and reputation of the platform to ensure a safe and smooth booking experience.
Frequently asked questions about the Madrid-Bordeaux train  
Are there direct services between these cities?  
No, there are no direct train services between Madrid and Bordeaux. To make this journey, you need to make at least two changes during the trip. There are several route options and connections available to get from Madrid to Bordeaux, such as the Madrid – Barcelona – Bordeaux route or the Madrid – San Sebastian – Bordeaux route.
What are the connection options in Madrid and Bordeaux?  
In Madrid, the main train station from where trains to Bordeaux depart is Madrid-Puerta de Atocha station. This station has excellent public transport connections, such as metro and buses, which facilitate access to the station.
In Bordeaux, the main train station is Bordeaux-Saint-Jean station. From this station, you can easily access the city center using the Bordeaux tramway, buses or other available means of transport.
What is the average speed of trains?  
The average speed of trains on the Madrid-Bordeaux route is approximately 167 km/h. The average train travel time from Madrid to Bordeaux is 3 hours 18 minutes, covering a distance of 551 km.