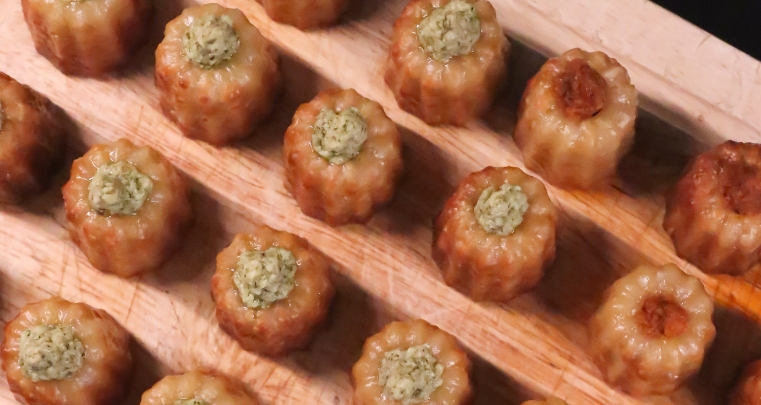 Sweet typical of Bordeaux: cannelé
Bordeaux cannelé is a sweet typical of Bordeaux known for its special flavor and texture. It is believed to have originated in the 18th century when nuns used the leftover yolks from wine production. Its unique shape is achieved thanks to the special molds in which it is baked. With a soft and creamy interior, its exterior is crunchy and caramelized. If you take a free walking tour of Bordeaux there are several bakeries and stores in Bordeaux that you can visit, where you can find quality cannelés. There are also variations of cannelé that combine traditional flavors with chocolate ganache and salted butter caramel.
Origin and tradition of cannelé
The cannelé is a typical sweet from the Bordeaux region that has a fascinating history and tradition. Its origin is believed to date back to the 18th century when nuns in local convents used the leftover yolks from wine production to make these delicious pastries. Over time, the cannelé became popular and became a true culinary symbol of Bordeaux gastronomy.
This ancestral tradition has endured to this day, and the cannelé remains one of the most appreciated and recognized Bordeaux sweets. Its popularity transcends borders and it is known throughout the world for its delicate flavor and texture.
But cannelé is not just a sweet, it is also an important part of the region's identity. Its unique and distinctive shape, obtained thanks to the vertically fluted molds in which it is baked, makes it unmistakable. Its soft and creamy interior, with a delicious vanilla and rum flavor, contrasts perfectly with its crunchy and caramelized exterior.
For food lovers, the cannelé has become a true symbol of Bordelaise gastronomy. Today, there are several bakeries and stores in Bordeaux where you can find quality cannelés that follow the traditional recipe and guarantee an unforgettable culinary experience. If you are thinking of things to do in Bordeaux, you should definitely come and try one of these incredible cannelés.
Homemade cannelé recipe
Ingredients needed
500 ml of whole milk
100 g flour
250 g sugar
eggs
egg yolks
g butter
teaspoon vanilla essence
tablespoons rum
Step-by-step process
In a saucepan, heat the milk over medium heat until it is hot but not boiling. Remove from the heat and let it cool.
In a large bowl, mix the flour and sugar. Add the eggs and egg yolks, mixing well.
Slowly pour the hot milk over the flour and egg mixture, stirring constantly to prevent lumps from forming.
Add the melted butter, vanilla essence and rum to the mixture, and beat until a smooth and homogeneous dough is obtained.
Cover the bowl with the batter and let it rest in the refrigerator for at least 24 hours.
Preheat the oven to 210°C. Grease the cannelé molds with butter and sprinkle with sugar.
Pour the batter into the molds, filling them to about 3/4 of their capacity.
Bake for 10 minutes at 210°C, then reduce the temperature to 180°C and continue baking for approximately 50 minutes more, until the cannelés are golden brown and caramelized on the outside.
Remove from the oven and let the cannelloni cool in the molds for a few minutes before carefully unmolding them.
Serve the cannelés slightly warm or at room temperature, enjoying their soft and creamy interior along with their crispy exterior.
Varieties and versions of cannelé
Bordeaux cannelé is a versatile sweet that has inspired some interesting variations and versions. Here are some of them:
Cream'lé: a unique combination
Cream'lé combines the traditional taste of cannelé with the smoothness and creaminess of a milk chocolate ganache. In addition, a touch of freshness is added with a hint of lime and balanced with a delicious salted butter caramel. This combination of flavors creates a unique and irresistible experience for cannelé lovers.
The smoothness and creaminess of the ganache filling is perfectly complemented by the crunchy texture of the caramelized exterior of the cannelé. This unique combination of flavors creates a harmonious balance that will transport you to the culinary delights of Bordeaux.
If you visit Bordeaux, you can't miss the opportunity to try this special version of cannelé. 
Other variations of cannelé
In addition to Cream'lé, there are other variations of cannelé that are worth trying. Some pastry shops in Bordeaux offer versions with additional flavors, such as chocolate cannelés, fruit-filled cannelés or even cannelés with more exotic flavors, such as spices or liqueurs.
Chocolate: A delicious version of the cannelé where the chocolate flavor melts with the smooth and creamy texture of the interior.
Fruit: Cannelés filled with different fruits, such as strawberries, raspberries or even pineapple, which add freshness and a fruity touch to the traditional sweet.
Spices: Some confectioners have experimented with the addition of spices such as cinnamon, nutmeg or cardamom, which add an aromatic and different touch to the cannelé.
Liqueurs: Another interesting variation is that of cannelés impregnated with liqueurs such as rum, Cointreau or Grand Marnier, which add an intense and sophisticated flavor.
These variations are just some of the possibilities offered by the cannelé in Bordeaux. Each patisserie may have its own unique version, so it is worth exploring and discovering new and surprising combinations.