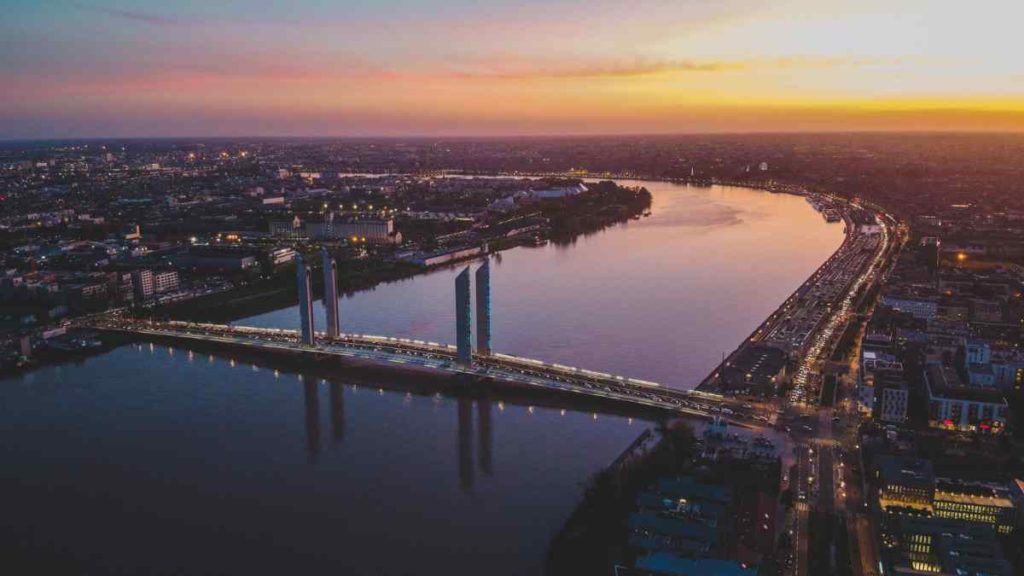 Are you on a wine tour? You must include Bordeaux in your itinerary. Especially because you will get great, high-end wine, for sure. But, at the same time, you will also get to see a wonderful city. The wineries and vineyards in the city are only one of the legs that sustain tourism in Bordeaux, there is a great deal to see and do in the city as well.
It is highly advisable that you get to know a little bit about the city before you go so you can make informed decisions to plan ahead and learn everything you need to know about the tours you want to book. In this review, you will find useful information as to how to get to Bordeaux, where to sleep, where to eat and what the top activities to do and places to visit are. Read on to start planning your trip and enjoy!
Get to know Bordeaux before you go
The city is relatively small which makes it the perfect destination to go on a trekking journey. Moreover, thanks to the features of the landscapes, you will be able to walk around the city and appreciate the singular beauty of its architecture.
The city offers many other buildings that are worth a visit. A trip to Bordeaux is a trip through history: from the Roman empire to the age of Enlightenment you will be amazed with every step you take around it.
How to go to Bordeaux
To get to the city, you have all the possible options available. Make sure you check availability of the train and plane tickets and if they adapt to the kind of journey you want to carry out. Below, you will find information on each means of transportation to see which one is more convenient for you.
Go to Bordeaux by car
If you are coming from a neighboring country or city and want to take a close and spectacular look at the landscape, renting a car might be the best option. Provided this option is within your budget, you are highly suggested to take it as it will allow you to drive around the city and make as many stopovers as you need or wish.
Go to Bordeaux by plane
For a quick trip, the plane is definitely the preferred option. Most national airports in the continent have a direct flight to the city and the trip doesn't take more than an hour and a half. Note that this is not an option if you are coming from Toulouse.
Go to Bordeaux by train
If you are coming from Paris or Toulouse, the train offers a direct route to Bordeaux and the trip takes three hours from Paris and two from Toulouse. Other cities, like Montepllier and Nantes, Lyon or Marseille also offer a direct route, but the trip can take up to six hours depending on the city you set off from. Whatever route you take, you will enjoy the most amazing views during the trip!
How to get from the airport to Bordeaux
Once you get to the airport, you can take a taxi or a shuttle service to the city center. The trips in either of them don't take longer than half an hour and the tickets of the Navette Shuttle are only 8 €. Considering it takes the same time, this is a more affordable option as the taxi transfer can cost up to 30 euros.
Where to eat in Bordeaux
Considering this is the city of wine, the food in Bordeaux is nothing less than premium. Here are some options for you to consider:
La Brasserie Bordelaise: this not so hidden gem has a seasonal menu, that is, the dish offers changes with the seasons. Winter or summer, the dishes are equally enjoyable!
L'Entrecôte: this restaurant is located at the center of Bordeaux and it is truly unique: you only have one menu option. What is it? A sliced beef sirloin and accompanying fries. Tell the chef how you want your beef and enjoy!
La Tupina: this totally-worth-it rustic-style restaurant feels like a farmhouse. Although it is on the high side of costs, it is truly a gastronomic experience.
Le 7 Restaurant: nothing better than a glass of premium wine and a panoramic view, right? Visit this restaurant to get that and a seasonal menu that pairs perfectly with the view.
Le Canopée Café: this is a rooftop café located in Mérignac. The twenty minute trip is completely worth it. You can have lunch in the indoor restaurant or
Main dishes of Bordeaux gastronomy
Canelé: this is a custardy cake, a sweet delicacy you cannot miss. You can find it in most lunch-service restaurants.
Gratton de Lormont: this is fresh ham charcuterie. Have it as a starter and pair it with dry white wine.
Bordeaux lamprey: if you like fish, try this dish out. It is usually cooked with red wine, cured ham and leeks.
Puits d'amour: chiboust cream filled pastry that can be found in any bakery in the city. You'll love the crispy top texture combined with the creamy inside.
L'Entrecôte Bordelaise: this is a steak cooked Bordeaux-style, that is, on vine shots. Make sure you give it a try!
Where to sleep in Bordeaux
Hotels and accommodation facilities in Bordeaux are high-end, just like the rest of the experiences you will go through in the city. Consider visiting either of these hotels:
Villa Victor Louis: this is an intimate bed and breakfast loathed in the city center. The building dates back from the 18th century and it consists of only eight rooms.
Seeko's hotel: the rooms in this hotel have a minimalistic design and it has the most outstanding views.
Hotel de Tourny: if you are planning a family trip, you might want to consider booking a room in this modern hotel. It loathed downtown making it the perfect option for going out and sightseeing with the kids.
Domain ded Raba: this is a manor house, a boutique hotel with luxurious rooms, a swimming pool, a spa and a restaurant. Perfect for a country escape.
Mamma Shelter: for a more affordable option, this 97-room hotel is perfect or a group holiday with friends or a business trip. It has a terrace that offers a unique view.
How to get around Bordeaux?
If you are feeling sporty and adventurous, walking the city is a great plan. Although renting a bike might also sound tempting. Since it is quite small, nothing is too far away and the land is plain so you won't have to struggle with ups and downs.
On the other hand, if you are planning on going on a wine journey around the vineyards, a car might be the best option. In addition to that, you can always rent a scooter or catch a cab that will take you around the city and allow you to enjoy more than just one cup of wine!
Main points of interest in Bordeaux
Bordeaux doesn't have that one singular and unique building like Paris does. However, because of the history of the city, you will find a wide variety of cultural places to visit. Here are some points of interest you might want to include in your itinerary:
Ville du vin
Literally translating to "city of wine" in English, the Ville du Vin stores are the perfect place to find a match between you and a bottle of wine. The true connoisseurs and professionals will guide you through their catalog and help you find the perfect label.
Grosse Cloche
This building is located in the center of the city and it is one of the oldest belfries not only in the city, but in the whole French nation. This is a true relique and you can visit it on a guided tour.
Porte Cailhau
If you are after an astonishing view of the city, this is the spot you have to visit. This 35-meters tall tower dates back from the 15th century and it remains almost the same! The entrance is 5 €, but it is free for children under the age of 12.
Cathédrale de Bordeaux
This Catholic cathedral was listed by UNESCO as part of the French Compostela Way and it is as old as time. It is an architectural wonder from the Carolingian period. It is open for visitors provided the safety conditions of the place are given and they encourage you not to go with any kind of baggage or exceedingly heavy or big personal belongings.
Le Miroir d'Eau et le Palais de la Bourse
Breathtaking doesn't even begin to describe this spot. The buildings in the area reflect 18th century architecture. It is perfect to visit with kids and family. To put it simple: you must pay a visit. Note that the Water Mirror is closed during the winter season.
Jardin botanique
Compelling views of the oldest part of Bordeaux, that is what you will get during your visit around the Botanical Garden. Enjoy a stroll around a natural setting right in the middle of the city. Get a look at the building, the river and the city.
La Plaza de Quinconces et le Monument aux Girondins
This is the biggest square in Europe and it was built in the 19th century. It is surrounded by these thin streets full of trees and that is where the name comes from.
Visit the monument and the statues in it and learn about the journey they went through to get to where they are now.
Rue Sainte Catherine
This is a pedestrian street, full of shops and markets you can visit to get all the presents and souvenirs you want. It is 1,200 meters long and it is usually crowded with tourists and locals. It is, simply, the largest shopping street in the country and the continent!
Pont de Pierre
When going for a walk, consider crossing the Garonne river to get some striking views of the city surrounding both sides of the bridge. This is the oldest bridge in Bordeaux, built in the 19th century and has suffered some modifications to adapt it to popular demands.
Grand Théâtre et Place de la Comédie
Here, you can visit the Grand Théâtre on a personalized tour and enjoy a show. At the top of the facade, you can also enjoy a view of the three goddesses. Take a stroll around the area to discover amazing restaurants and fancy hotels, L'Intercontinental being the fanciest of them all.
What budget do I need to visit Bordeaux?
Considering the high-end hotels, the vineyard tours and the entrance tickets to some of the most luxurious spots in the country, it is only fair to say visiting Bordeaux is not necessarily inexpensive. However, you can always find more affordable options and adapt your trip to your budget. Consider spending 135 € per day to make it an enjoyable experience.
Do I need insurance to visit Bordeaux?
Yes, you do. When visiting France,especially if you are visiting from an overseas place,  it is important that you have travel insurance and an insurance certificate that can cover any hospital expenses you might have during your trip. Get a European Health Insurance Card and travel safely!
Free Tours and Private Tours Around Bordeaux
In Free Walking Tours we have a wide variety of FreeTours and Private Tours to choose from. Please, don't hesitate to take a look at our website! From the regular wine and Cheese degustation Tours to Blind tasting Tours, as well as Modern to Medieval Bordeaux Free Tours or Saint Emilion tours.