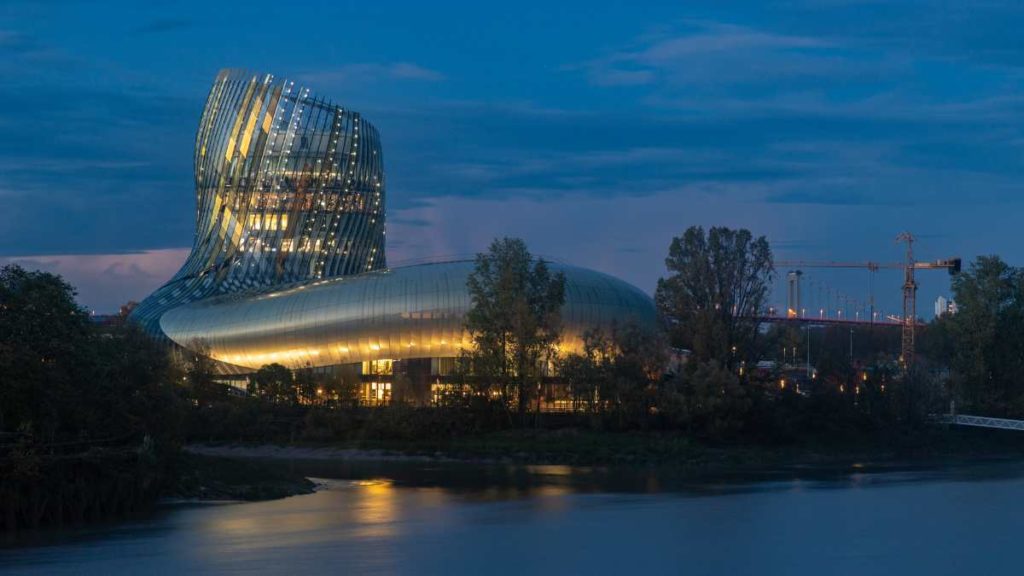 In case you didn't know, Bordeaux is located in one of the most important wine regions in the world. It is widely recognized for the quality and exclusivity of its vintages. Moreover, wine tourism has a great importance in the local economy. Therefore, it is not surprising that this sector has so much prominence in the environment.
And apart from its beautiful and vast vineyards, here you can also find an endless number of activities related to wine. The best example of this is the City of Wine, a true reference of this industry. It is also one of the most curious places to visit and enjoy.
What is the Cité du Vin (City of wine in English)?
If we had to quickly define the Cité du Vin Bordeaux, we could say that it is a museum. It pays tribute to this industry in all its expression: from its history and production to the commercialization in the city.
One of the main attractions is undoubtedly its wonderful and impressive architecture. To put it in context, it is located on the banks of the Garonne River and shows a very original design. It simulates the movement that the wine makes when it enters the glass, during decanting. Before entering, it is already more than attractive.
This museum is developed on a surface of 14,000 m2, with 55 meters high and 10 floors. Each of these has a specific theme related to wine. The visitor will live here an immersive and multisensory experience. Best of all, this place offers dynamics for young and old with didactic activities.
The floors open to the public are divided as follows:
First floor
Here are the ticket offices, the souvenir store and a few training rooms where workshops and tastings are held. There are also temporary exhibitions.
Second floor
This is the place for the permanent exhibitions. Once you arrive, you will be given an audio guide that changes according to the area you pass through.
This is perhaps one of the most attractive. It tells the history of wine since 6,000 BC, its role in different civilizations, the process of cultivation, production and even bottling. These are facts that for many are a real mystery.
This plant is where most of the time is spent during the visits. Interviews with wine experts are shown here.
Seventh floor
The restaurant area, where it is also necessary to say that it has one of the best views you may have ever witnessed. Of course, wine is very present, both as an ingredient in many of its exquisite recipes and in the selection to accompany the food.
Eighth floor
You have the terrace and a landscape to accompany the wine tasting which, depending on the visit, is the last stop. Therefore, the best for last. Here you can taste some of the best wines in the world. Not bad, especially if you consider that you are in the world capital par excellence.
What can you see in the City of Wine?
Depending on the time of year or the temporary exhibition you are visiting, you may find some different activities or dynamics. However, in general, you will always be able to do them:
It has 20 thematic and interactive areas to learn about this industry.
Giant screens where you will enjoy a tour of the main vineyards of the world.
Interactive balloons explaining the economic importance of wine for the world.
Secrets of some of the most influential winemakers.
There are six giant bottles of wine representing the most famous wine families.
You will learn about the river and maritime routes most used throughout history for the commercialization of wine.
History of the Cité du Vin
For some, this is the beacon of Bordeaux wine because of its particular architecture. It was inaugurated in 2016 after a long and very expensive construction process by the architectural firm XTU Architects.
The process was shrouded in some controversy, as the project cost 81 million euros. In addition, more than 1,000 tons of steel and 925 glass panels were required. It is part of a series of reforms and constructions that were made at that time as part of the tourist impulse that was wanted to give to Bordeaux.
Since its inauguration, a little more than a million and a half people have visited these facilities, marveling at the history and design. In fact, National Geographic ranked it seventh among the 10 best museums in the world.
How to get to the Cité du Vin (City of Wine) in Bordeaux?
Bordeaux has a good public transportation system, so getting from one point to another is not exactly complicated.
To get to the Cité du Vine you have different options. It all depends on your preferences:
Bus
It is a wonderful option to get to this and other major monuments in Bordeaux. This specific point is covered by different lines:
Citéis 45
Liane 7
Corol 32
No matter which one you take, you must get off at the La Cité du Vin stop.
Tramway
For some, this is the best option for getting around Bordeaux, as it connects many areas with respect to the most popular monuments.
Take the B line and get off at the Cité du Vin stop, which is only a two-minute walk from the complex.
On foot
If you prefer to visit new destinations on foot, don't worry. It's not far, it's about 40 minutes from the city center. Besides, you can enjoy the wonderful views that will accompany you along the way.
Bicycles are also a good option, considering that you can rent them and in 10 minutes you will be there.
Hours and Rates of the City of Wine
This wonderful complex is open every day of the week:
Monday through Friday, hours range from 10 am to 6 pm.
In high season and on weekends it extends its closing time to 7 pm.

On December 24 and 31, it closes at 4 p.m., while on December 25 and January 1 it remains closed.
Renovations are currently underway, so the complex is not open to the public. It is scheduled to reopen on February 4.
The average tour lasts about two hours.
Rates
Depending on the type of access you want to have, the prices to visit the Cité du vin may vary a little. General admission includes access to the permanent exhibition on the second floor, a visit to the terrace and a wine glass tasting. The prices for this one change according to age:
Adults: 9 €.
Children under 6 years old and seniors: 7 €.
Children under 5 years old: Free admission

Discovering the City of Bordeaux Wine on a free tour
Of course, the Cité du Vin Bordeaux is one of the must-see stops on any travel itinerary. Moreover, it is completely worth the time it takes. Especially if you love wine. For this reason, we recommend you to dedicate at least half a day.
The administration offers an audio guide in different languages. However, having a tour guide can make the experience even more rewarding and enriching. Of course, in Bordeaux you can opt for a free tour. In addition to the fact that they can adapt to your language, they can tell you a little more about what this complex represents.
USE CODE: WELCOME FOR A 10% DISCOUNT ON YOUR BOOKING!