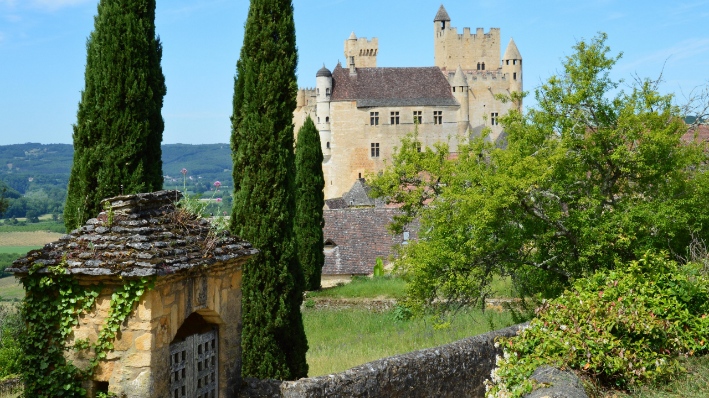 6 beautiful villages near Bordeaux
Are there beautiful villages near Bordeaux? Of course there are! The surroundings of Bordeaux are home to beautiful villages and towns worth visiting.  You can't miss them after a free walking tour of Bordeaux. 
You will find charm in places like Le Porge, with its nature and outdoor sports. L'Herbe will captivate you with its coastal charm and the imposing Pilat Dune. Beynac et Cazenac will surprise you with its flower-filled houses and its hanging castle. Don't miss Belvès, a medieval jewel, and Sarlat la Canéda, a charming village with historical monuments, and much more!
Pretty villages near Bordeaux  
The area around Bordeaux is home to a wealth of charming villages that are well worth a visit. Each of them has its own charm and offers unique experiences for visitors. Here are some of the most outstanding villages: 
Le Porge: nature and outdoor sports  
Located in the Bordeaux district, Le Porge is known for its natural beauty and its wide range of outdoor activities. This pretty village offers you the opportunity to enjoy beautiful landscapes, from its pine forests to its sand dunes and its nearby beach. If you are a sports lover, you can go surfing, water skiing, bodyboarding, hiking and cycling.  
Le Porge also has a 12th century church and a museum of popular arts and traditions, where you can immerse yourself in local history and culture. Don't forget to explore the gastronomic markets and sample the local produce that this charming place has to offer.
L'Herbe: seaside charm and the Pilat Dune  
If you are looking for the charm of a seaside atmosphere, L'Herbe is the place to visit. This small fishing village, located on the Cap Ferret peninsula, will charm you with its colourful houses, narrow cobbled streets and the fishing boats in its picturesque harbour.  
Here you can enjoy panoramic views of the Atlantic Ocean from the surrounding pine forest. In addition, one of the most impressive attractions near L'Herbe is the famous Dune de Pilat, the highest sand dune in Europe. Being so close to Bordeaux it is a must see and one of the things to see in 4 days in Bordeaux without a doubt. 
Beynac et Cazenac: Flowers and hanging castle  
An experience full of medieval charm awaits you in the village of Beynac et Cazenac. Yes, this is the famous medieval village near Bordeaux. Its flower-filled houses and its castle perched on the hill will capture your attention from the very first moment. Don't miss the Musical Nights festival held during the summer, where you can enjoy open-air concerts in a magical setting. If you like medieval art and history, don't miss our medieval Bordeaux free tour.
Sarlat la Canéda: Historical Monuments  
Another village that captivates with its medieval charm is Sarlat la Canéda. Its narrow streets, listed buildings and Gothic architecture will take you back in time. Stroll through its old town and be amazed by the beauty of its historical heritage.
Monflanquin: Historical beauty and traditional market place  
Monflanquin, founded in 1256, stands out as one of the most beautiful villages in France. Its historical beauty is reflected in every corner, from its cobbled streets to its stone houses. Don't miss the market held in the Place des Arcades on Thursday mornings, where you can enjoy local produce and soak up the traditional local atmosphere.
Collonges la Rouge: Red sandstone streets and towers  
Collonges la Rouge will surprise you with its cosy streets and its façades built in red sandstone. This charming village near Bordeaux has 25 towers that add a medieval air to its landscape. Explore its narrow streets and be seduced by the unique architecture of this town.
As the capital of the Aquitaine region, Bordeaux is a vibrant city full of entertainment options. Here you will find a wealth of museums, theatres, restaurants and shops to keep you busy during your visit. The city is also known for its impressive historical heritage, with ancient medieval gates, beautiful chateaus and the famous Water Mirror, which mirrors the beauty of the Place de la Bourse. Don't miss the opportunity to explore this charming city during your stay in the Bordeaux region.
Experiences and recommendations in the villages near Bordeaux  
Enjoying wine and vineyards in the wine-growing region  
The area around Bordeaux is famous for its vineyards and the quality of its wines. An unmissable experience is to visit the wine cellars and taste the delicious red, white and rosé wines of the region – discover the best wines of Bordeaux!
Tour the vineyards, learn about the production process and be captivated by the unique aromas and flavours of Bordeaux wines. Don't forget to taste the famous red wine of Saint Émilion, renowned worldwide.
Explore the medieval limestone streets and houses  
Immerse yourself in the medieval atmosphere of the villages around Bordeaux. Walk along cobbled streets surrounded by limestone houses, admire the ancient architecture and discover the charm of medieval times. In Beynac et Cazenac, Belvès and Sarlat la Canéda you will find narrow streets full of history and flower-filled houses that will take you back in time.
Local markets and traditional gastronomy  
Immerse yourself in the culinary culture of the region by visiting the local markets and enjoying the typical sweets of Bordeaux and the surrounding area. Taste and buy fresh and authentic products such as cheeses, cold meats, breads and traditional pastries. Discover the flavours of the region and marvel at the quality of local ingredients. In addition, enjoy the variety of restaurants and bistros offering typical local dishes such as duck confit, foie gras and the delicious wines of the region. We recommend that you find out beforehand what time dinner is served in Bordeaux so that you don't find everything closed when you arrive.
 Travel recommendations and compulsory insurance  
Plan your visit in advance and make sure you have enough time to explore each village and enjoy all the experiences.
Check the availability of free tours, especially if you are going on a special experience such as a wine tasting tour in Bordeaux.
Don't forget to take out travel insurance to provide medical cover and protection in case of any eventuality.
Find out about access restrictions and opening hours of the places you want to visit, as they may vary.
Book accommodation in advance, especially in high season, to ensure you find the right place to stay.