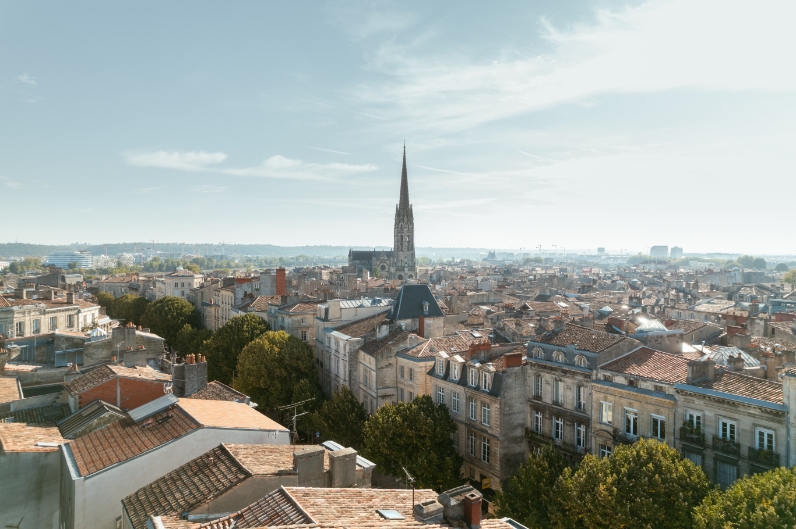 Darwin, a unique ecosystem in the center of Bordeaux 
The former Niel barracks came to life as a unique ecosystem known as Darwin, in the center of Bordeaux. Thanks to the renovation carried out by the Evolution group, this space has been transformed into a vibrant cultural, business and recreational center. With a surface area of 22,000 m², Darwin houses a wide range of innovative companies, co-working spaces, stores and services. It also offers a variety of outstanding activities such as festivals, concerts, art exhibitions and outdoor entertainment options. This project has had a significant impact on the city's urban transformation and on environmental awareness and climate change. Undoubtedly, if you take a free walking tour of Bordeaux this should be a mandatory stop.
Evolution of the Niel Barracks and its transformation into Darwin
The former Niel barracks, located in the center of Bordeaux, have undergone an incredible transformation in recent years. In 2005, after being abandoned by the army, the Evolution group acquired this space and initiated an exciting renovation process.  
Thanks to Evolution's vision, the Niel Barracks were converted into Darwin, a truly innovative cultural, business and recreational center. This project has succeeded in revitalizing the area and turning a derelict space into a vibrant and dynamic place.
In this metamorphosis, the original architecture of the old barracks has been respected, preserving its historic charm and giving it a new life and purpose. Not only has a functional space been created, but also a place that reflects Bordeaux's identity and its commitment to innovation and sustainability.
Today, Darwin occupies an impressive 22,000 m², making it a true lung in the center of the city. In addition to its fascinating architecture, this unique ecosystem is home to a wide range of attractions and services that make it truly special.
In Darwin, it is possible to find innovative companies that have established themselves in this environment conducive to the development of ideas and collaboration. There are also co-working spaces, providing opportunities for creativity and knowledge sharing.
Darwin's retail offering is equally striking, with a variety of stores reflecting the diversity of the local scene. From sustainable fashion boutiques to stores specializing in organic products, there is something for all tastes and needs.
Wide range of business, cultural and recreational activities in Darwin  
If you don't know what to see in Bordeaux in 4 days, Darwin offers a dynamic and diverse environment that combines business, cultural and recreational. This unique ecosystem in the center of Bordeaux is home to a wide variety of attractions and services to meet the needs of residents and visitors.
Innovative businesses in Darwin  
Darwin is home to numerous innovative companies that foster creativity and entrepreneurship. From technology startups to cutting-edge design companies, this ecosystem fosters collaboration and the exchange of ideas between professionals from different sectors.
Co-working spaces in Darwin  
One of Darwin's standout features is its shared workspaces, ideal for both individual entrepreneurs and work teams. These spaces offer an inspiring environment, equipped with all the necessary amenities, fostering collaboration and networking among professionals from different fields.
Stores and services in Darwin  
In addition to the companies and workspaces, Darwin has a varied commercial offer. In its facilities you can find exclusive stores offering organic products, local crafts, sustainable fashion and much more. You can also find services such as organic restaurants, cozy cafes and spaces for events and meetings.
Highlights of activities and events in Darwin  
In Darwin, you can enjoy a wide variety of activities, events and free things to do in Bordeaux that will surprise you. From festivals and concerts to art exhibitions and outdoor activities, there is always something exciting to do in this dynamic destination.
Festivals and concerts in Darwin  
Festivals and concerts are an integral part of cultural life in Darwin. Throughout the year, a variety of events are held, attracting both local and international artists and bands. Live music fills the air, creating a vibrant and festive atmosphere that you won't want to miss. From open-air concerts to themed festivals, there's something for every musical taste.
Exhibitions and art in Darwin  
Art is an essential part of Darwin's creative soul. In museums of Bordeaux, you can admire works by local and international artists. From painting and sculpture exhibitions to contemporary art installations, each exhibition will transport you to a world of creativity and expression. In addition, special events such as talks and meetings with the artists are organized, allowing you to immerse yourself even more in the world of art.
Leisure and outdoor activities in Darwin  
If you love outdoor activities, Darwin is the perfect place for you. This unique ecosystem has ample green areas where you can relax, picnic or play sports. You can also explore the nature trails that will lead you to discover the native fauna and flora of the area. In addition, activities such as outdoor yoga, organic food markets and craft fairs are held, giving you a physically and spiritually enriching experience.
Darwin's impact on the city of Bordeaux  
Darwin's development has had a significant impact on the urban transformation in the downtown area, which is why you should visit Bordeaux's old town. This abandoned former barracks has revitalized the area, attracting visitors, businessmen and residents alike. The following will detail the main aspects of Darwin's impact on the city.
Darwin's contribution to tourism in Bordeaux  
Darwin has become a major tourist attraction in Bordeaux. The perfect combination of cultural venues, outstanding activities and Bordeaux's gastronomy has attracted national and international tourists. The festivals and concerts held in Darwin have made the area a reference point for music and art lovers.
In addition, the exhibitions and artistic events held in Darwin contribute to enriching the city's cultural offerings, bringing new proposals and experiences to visitors. The presence of specialty stores and unique services has also generated greater interest from tourists, who find Darwin a unique and vibrant place to explore.
Darwin's role in environmental and climate change awareness  
Darwin has positioned itself as a leader in environmental awareness and the fight against climate change. The implementation of sustainable practices and the promotion of the circular economy are fundamental pillars in the functioning of this unique ecosystem. The companies present in Darwin are committed to reducing their environmental impact and promote the adoption of eco-friendly measures.
In addition, Darwin hosts initiatives that promote environmental awareness among the community, such as educational programs, talks and events related to sustainability. Darwin's presence has been a catalyst for the adoption of more sustainable practices in the city of Bordeaux, generating a positive impact on the community's environmental awareness.