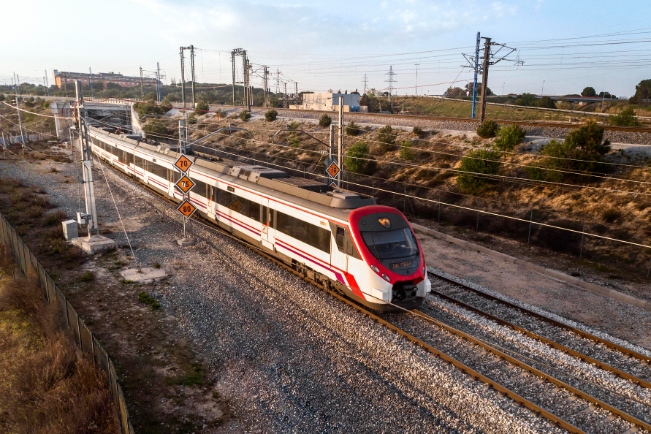 Hendaye-Bordeaux train: price, stops, timetable and more 
If you are planning to travel from Hendaye to Bordeaux by train, here you will find information on prices, timetables and stops. Travel time is approximately 2 hours and 27 minutes, with around 14 trains a day covering this route. Prices vary depending on how far in advance you book, starting from €25.00.
In addition, there are different classes available with different amenities. By travelling by train from Hendaye to Bordeaux, you help the environment by emitting less CO2. For more details on this journey, we invite you to read the rest of this article.
Where do you want to travel to?  
If you're planning a train journey from Hendaye to Bordeaux, you're choosing a fascinating experience in France. Bordeaux, known as the 'Pearl of Aquitaine', is a charming city that offers a rich history, stunning architecture and a vibrant gastronomic and cultural scene. We can't recommend a free walking tour of Bordeaux enough. 
On your train journey from Hendaye, you'll enjoy a scenic and relaxing ride as you cross unique natural landscapes, passing through charming villages along the way. From the beautiful coast of Hendaye to the heart of Bordeaux, this train journey will allow you to explore the region in comfort and style.
Once in Bordeaux, you will have the opportunity to discover its elegant avenues, stroll along Bordeaux's magnificent monuments and immerse yourself in its lively cultural life. You will be able to tour its famous vineyards, taste exquisite wines and enjoy its delicious gastronomy. To make sure you don't miss a thing, we recommend a Bordeaux Wine Tour. 
Don't miss the opportunity to visit its impressive monuments, such as the Place de la Bourse or the Saint-André Cathedral. 
Trainline: Europe's leading platform for booking train and bus tickets  
Trainline is a leading European platform that provides the convenience of booking train and bus tickets quickly and easily.  
By using Trainline, users can compare different train and bus ticket options, including from Hendaye to Bordeaux. This platform offers a wide variety of schedules and prices, allowing travellers to find the option that best suits their needs and preferences.  
Comparison of options: Trainline makes it easy to compare different companies and train types, so users can make an informed choice.
Fast and secure booking: With just a few clicks, users can book and purchase their train and bus tickets securely, ensuring an efficient and hassle-free shopping experience.
TGV inOUI and TER on-board services  
TGV inOUI and TER trains offer a variety of on-board services to make your journey more comfortable and enjoyable. You can also go to their website to buy your ticket.
TGV inOUI  
The TGV inOUI trains have a restaurant car where you can enjoy a variety of menu options during your journey. You can also take advantage of the free on-board wifi to stay connected and entertained. If you're travelling with children under 12 years of age, there are special discounts for them on TGV inOUI trains.  
TER  
TER trains offer a spacious and comfortable space for you to enjoy your journey. Although there is no cafeteria service on board, you can bring your own food and drinks to enjoy during the journey. In addition, there is no maximum size limit for luggage, as long as it can fit in the spaces provided. This gives you the flexibility to take everything you need with you on your journey. It is usually recommended to get off at Saint-Jean de Bordeaux station.   
On both types of trains, you'll enjoy spacious seating for comfort. In addition, the TGV inOUI and TER trains offer free wifi, allowing you to stay connected throughout your journey. You will also find power sockets to charge your electronic devices. These on-board services are designed to ensure your journey is pleasant and comfortable. 
Ticket options and discounts  
For the train journey from Hendaye to Bordeaux, there are various ticket and discount options to suit the needs of each traveller. Here are the different options available:  
Standard tickets: This option is perfect for those looking for a comfortable and economical journey. Standard tickets offer ample seating and the chance to enjoy the beautiful scenery along the way.
Flexible tickets: Ideal for those who need more flexibility in their journey. These tickets allow for changes to the booking up to the day of departure, providing greater convenience in case of unforeseen events or changes of plan.
Economy class tickets: Economy class is a perfect option for those looking for a comfortable travel experience at an affordable price. These tickets offer spacious seating, free Wi-Fi and a shared table for added comfort.
Business class tickets: If you want to enjoy a higher level of comfort and exclusive services, Business Class tickets are the perfect choice. This category offers folding seats, extra legroom and ticket flexibility.
In addition to the regular ticket options, there are also discounts available to make your journey even cheaper. Some of the discounts available include:
Children's discounts: Children under the age of 12 can enjoy reduced fares on trains, saving even more on the cost of family travel.
Group discounts: If you are travelling in a group, you can benefit from special discounts. These discounts allow you to save money when travelling with friends or family.
Early booking discounts: Booking in advance can result in significant savings on the price of your ticket. The earlier you book, the better your chances of getting a reduced price.
More train travel ideas  
If you are planning a train journey from Hendaye to Bordeaux, here are some additional ideas to make your experience even more enjoyable:  
Enjoy the scenery: During the train ride, you'll be treated to beautiful natural landscapes. Make sure to sit by a window so you don't miss the incredible views along the way.
Discover the Bordeaux region: Once you arrive in Bordeaux, you will have the opportunity to explore this beautiful French region. Visit the prestigious vineyards of the area, taste the exquisite local wines and wander through the charming alleys of the historic city centre.
Visit the museums: In both Hendaye and Bordeaux, you will find a wide range of cultural offerings. Be sure to visit the museums and art galleries in both cities to immerse yourself in the historical and artistic heritage of the region. We recommend the Place de la Comédie, which is very close to all the important points and will surprise you.
Go on excursions: If you have extra time, consider exciting excursions from Bordeaux. You can visit the beautiful town of Arcachon, discover the charming village of Saint-Émilion or explore the sand dunes at the famous Dune de Pilat – there are many beautiful villages near Bordeaux!