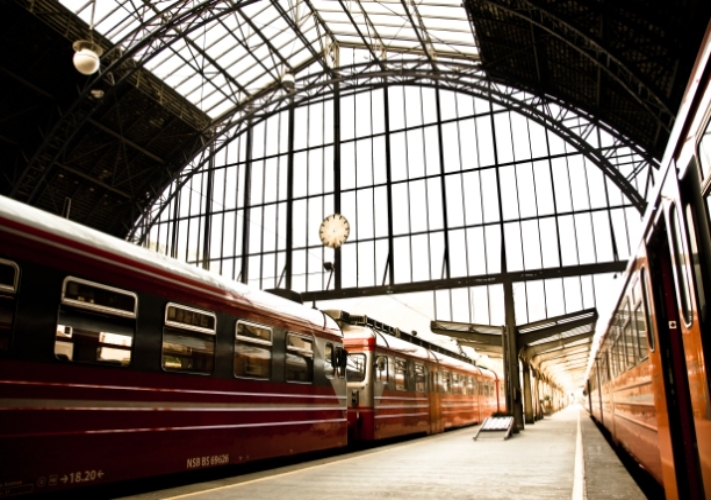 Bordeaux-St. Jean, a monumental train station
The Bordeaux-St. Jean train station, located in the city center, is an impressive 19th century monument. Designed by Gustave Eiffel, it stands out for its architecture and its history. It is recommended that if you take a free walking tour of Bordeaux, make a visit to this train station. It offers an excellent train service to France and other countries, making it an ideal starting point to explore the city and its nearby attractions. Although it has several cafes and rest areas, cramped space and lack of seating are a problem. In addition, orientation at the station can be tricky and getting cabs can be difficult.
History of Bordeaux-St. Jean, a monumental train station
The Bordeaux-St. Jean train station has a rich and fascinating history dating back to the late 19th century. It was built as an impressive example of architecture of the time, and its design is attributed to the renowned Gustave Eiffel, renowned for his iconic Eiffel Tower.
Since its inauguration, Bordeaux-St. Jean has witnessed countless journeys and has played a crucial role in the country's connectivity. Over the years, it has undergone renovations and improvements to maintain its status as one of France's most important stations.
The station has witnessed changing eras, from steam locomotives to modern high-speed trains. It has played a vital role in the history of travel and transportation in the Bordeaux region and beyond.
Nowadays, Bordeaux-St. Jean remains a symbol of architectural grandeur and a starting point for exploring both the city and nearby attractions. It is a living testament to the importance of the railroad in urban development and connecting people.
Bordeaux-St. Jean's impressive architecture
The Bordeaux-St. Jean station is a true architectural treasure of the 19th century. Its design, attributed to the renowned Gustave Eiffel, captivates every visitor who sees it.
From the moment you set foot in this monumental train station, you are impressed by its imposing structure and elegant facade. The ornate details and meticulous finishes reflect the grandeur of its period of construction.
The perfect combination of iron, steel and glass creates a unique and majestic atmosphere inside the station. The high ceilings and wide windows allow natural light to illuminate every corner, making the station breathe life and beauty.
The impressive metal roof is a visual marvel, a true engineering masterpiece that has been registered as a historical monument. The architectural details, such as the intricate iron rails and elegantly sculpted columns, bear witness to the architectural splendor of the era. The overall design harmoniously blends classic style and modern functionality, creating a unique and welcoming atmosphere.
Bordeaux-St. Jean train service to France and other countries
The Bordeaux-St. Jean train station is renowned for offering excellent train service connecting to various cities in France and other countries. Travelers can enjoy a wide variety of destinations and schedules, making it an efficient and convenient transportation hub.
From Bordeaux-St. Jean, trains depart regularly to iconic cities such as Paris, Lyon, Marseille and Bordeaux, as well as to international destinations such as Barcelona and Geneva. This gives travelers the opportunity to explore multiple places of interest without hassle.
In addition to long-distance routes, the station also has regional trains that connect to the surrounding areas of Bordeaux. This allows visitors to enjoy picturesque wine villages, charming landscapes or get close to some of the top 10 beaches near Bordeaux without the need to use other means of transportation.
The train service in Bordeaux-St. Jean stands out for its punctuality and comfort. Trains are equipped with spacious seats and the possibility to book online makes it easy to plan your trips in advance.
Overall, Bordeaux-St. Jean offers efficient and reliable train service, making it an excellent choice for those wishing to explore France and other European countries without hassle.
Convenient starting point for exploring the city and nearby attractions
The Bordeaux-St. Jean train station is not only an important connection point for travelers, but also an ideal place from which to start exploring the beautiful city of Bordeaux and its nearby attractions. If you don't know what to see in Bordeaux in 4 days, Bordeaux-St. Jean train station can certainly be one of your first stops.
From the station, visitors can easily access the city's main points of interest, such as the St. Andrew Cathedral of Bordeaux, the Place de la Bourse and the imposing Bordeaux Pierre Bridge. In addition, the well-connected public transportation system makes it easy to get around the city, making it easy to visit places such as the picturesque Saint-Pierre district, the lively Capuchin Market and some of the best Bordeaux vineyards to visit.
The station is also a convenient starting point for those wishing to make excursions to other nearby attractions. Just a short train ride away are fascinating places such as Saint-Émilion, a charming medieval town known for its vineyards and prestigious wines, as well as the famous beaches of the French Atlantic coast, such as Arcachon and Biarritz.
Centrally located and well connected, the Bordeaux-St. Jean train station gives travelers the opportunity to discover the diversity and charm of the Bordeaux region while benefiting from its convenient departure point.
Parking options near Bordeaux-St. Jean
If you're looking for parking options near the Bordeaux-St. Jean station, you're in luck. There are different alternatives available that will allow you to leave your vehicle safely while you enjoy your train ride.
There are both indoor and outdoor public parking lots just a few minutes' walk from the station. Some of these parking lots even offer pick-up and drop-off service, making it even more convenient for travelers.
Another parking option is automated parking garages. These automated lockers allow you to store your vehicle safely and conveniently without having to worry about finding an available space. Some of them are located directly at the station, while others are located in nearby museums and exhibition spaces.
With these parking options near Bordeaux-St. Jean, you can enjoy your train ride without worrying about where to leave your vehicle.