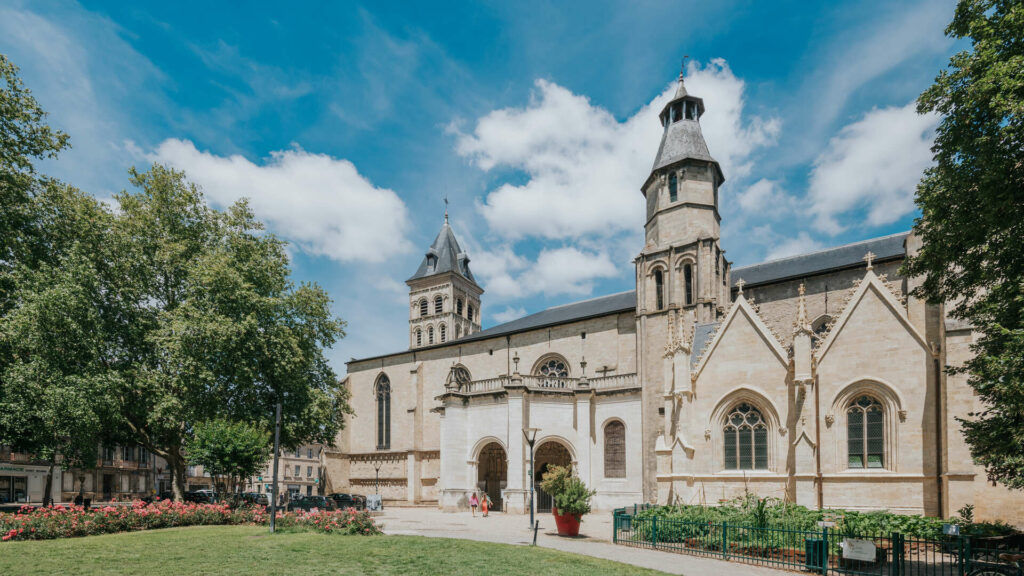 The sobriety of the Basilica of Saint-Seurin in Bordeaux
Bordeaux is an exceptional destination, distinct from Paris, with a delightful climate, exquisite cuisine and renowned wine. Its captivating architectural wonders, including the Basilica of Saint-Seurin in Bordeaux, as well as its rich cultural heritage and intriguing historical significance make it an ideal destination for your travels.
The city of Bordeaux boasts stunning architecture, convenient day trips to the picturesque French countryside and, of course, its internationally acclaimed wine. Whether you're a foodie, looking for a taste of life beyond Paris or simply yearning for a sunny getaway, any Bordeaux travel guide caters to diverse interests and guarantees a memorable visit.
Among the many places you can discover and enjoy in the city, whether on a free walking tour of Bordeaux or on your own, there is one that stands out and should be on your itinerary: the Basilica of Saint-Seurin.
Why should you visit the Basilica of Saint-Seurin in Bordeaux?
One of the city's most revered treasures is the Basilica of Saint Seurin, a magnificent symbol of architectural brilliance and spiritual significance that is deservedly featured in many Bordeaux travel guides. This ancient basilica, with its intricate details and awe-inspiring design, stands as a testament to Bordeaux's rich heritage. Its imposing presence adds a touch of mystique to the city's skyline, inviting visitors to delve into its historical depths.
Whether you are seeking a romantic getaway, a cultural adventure, a gastronomic exploration and even unusual things to do in Bordeaux, the city has something to offer every traveler. Its charm is not limited to the Basilica of Saint Seurin alone but extends to every corner of the city, inviting you to uncover its hidden treasures and create unforgettable memories. So, add Bordeaux to your bucket list and embark on a journey of discovery in this extraordinary French gem.
How to get to the Basilica of Saint-Seurin in Bordeaux?
Getting to the Basilica of Saint-Seurin in Bordeaux is a straightforward and enjoyable experience. The basilica is conveniently located within the city, making it easily accessible by various modes of transportation.
If you are arriving by plane, Bordeaux-Mérignac Airport is the main international airport serving the city. From the airport, you can take a taxi, hire a car, or use public transportation to reach the basilica. The airport offers shuttle services and regular bus routes that connect to different parts of the city, including the city center where the Basilica of Saint-Seurin is situated.
For those traveling by train, Bordeaux has excellent rail connections. The city is served by the Gare Saint-Jean, which is a major railway station with frequent connections to various cities in France and Europe. From the train station, you can take a tram, bus, or taxi to reach the Basilica of Saint-Seurin.
Bordeaux also has an extensive public transportation network, including the Bordeaux tramway and many buses, which provide convenient options for exploring the city. The tram system is particularly efficient, and there are several tram stops near the basilica. You can check the local transport maps or consult with the tourist information center to find the most suitable tram or bus route to reach your destination.
For those who prefer walking, the Basilica of Saint-Seurin is within a reasonable distance from the city center and can be reached on foot. Walking through the charming streets of Bordeaux allows you to soak in the atmosphere and discover the city's hidden gems along the way.
History and evolution of the Basilica of Saint-Seurin in Bordeaux
With a history that spans over a millennium, the Basilica of Saint-Seurin in Bordeaux is a testament to the city's rich cultural heritage. This remarkable basilica traces its roots back to the 6th century when it was originally built as an abbey church. Over the centuries, it has undergone several transformations and expansions, evolving into the stunning architectural masterpiece that we see today, part of Bordeaux's history.
The basilica's design reflects various architectural styles, including Romanesque and Gothic elements, showcasing the artistic influences of different eras. As you explore the basilica, you'll discover layers of history that have shaped this iconic religious site.
Architecture and outstanding features
the Basilica of Saint-Seurin in Bordeaux stands as an architectural marvel, captivating visitors with its grandeur and intricate details. Its façade, adorned with ornate sculptures and elaborate carvings, is a sight to behold. It harmonious combines Romanesque and Gothic architectural styles, creating a unique visual experience. Inside, you'll find a magnificent nave, soaring vaulted ceilings, and stunning stained glass windows that bathe the space in a kaleidoscope of colors. As you wander through the basilica, take a moment to appreciate the meticulously crafted stone columns, captivating frescoes, and the serene ambiance that permeates the sacred space.
What can you find inside the Basilica of Saint-Seurin in Bordeaux?
Stepping inside the Basilica of Saint-Seurin is like entering a treasure trove of historical and religious artifacts. The basilica houses an impressive collection of relics, including the tomb of Saint Fort, one of the early bishops of Bordeaux, and the crypt, which is believed to be the final resting place of Saint-Seurin himself.
Marvel at the ancient sarcophagi, intricate altarpieces, and delicate sculptures that adorn the interior, each offering a glimpse into the basilica's rich past. The serene atmosphere inside the basilica invites contemplation and reflection, providing visitors with a profound spiritual experience.
Moreover, if you come to Bordeaux in November or even if you visit Bordeaux in October, when temperatures start to drop, the Basilica of Saint-Seurin de Bordeaux and its crypt is a good choice to help temper your body temperature while enjoying an outstanding part of the city's cultural and religious heritage.
Hours and prices of the Basilica of Saint-Seurin in Bordeaux
the Basilica of Saint-Seurin welcomes visitors throughout the year, allowing them to immerse themselves in its historical and cultural significance. The basilica generally opens its doors from morning until evening, with specific opening hours varying depending on the season. It is advisable to check the official website or consult with the local tourism office for the most up-to-date information on opening hours.
Entry to the basilica is often free, allowing visitors to explore its wonders without any admission fees. However, donations are warmly welcomed and contribute to the preservation and maintenance of this architectural gem.
Recommendations for visiting the Basilica of Saint-Seurin
When visiting the Basilica of Saint-Seurin, it is recommended to take your time to fully appreciate its beauty and historical significance. Consider joining a guided tour to gain deeper insights into the basilica's architecture, history, and the stories behind its cherished relics.
Remember to dress modestly and respectfully, as the basilica is still an active place of worship. Additionally, photography is often permitted, but it is advisable to check for any specific restrictions or guidelines before taking pictures inside the basilica.
Finally, take a moment to sit in quiet contemplation, allowing the serene atmosphere of the basilica to envelop you. The Basilica of Saint-Seurin is not only a remarkable architectural gem but also a sanctuary of tranquility and spiritual reflection, inviting visitors to connect with centuries of history and find solace in its sacred space.